In our computer work, almost every day we can encounter PDF files, which have rightly become popular due to their versatile usability. Despite their wide range of uses, PDF files that are easy to use and portable are difficult to convert to other types of file formats reliably. If for some reason other - e.g. We want to convert these PDF files into JPG image format - you can not take us much surprise. In this case, Free PDF To JPG Converter is a free download and use software for Windows systems that comes with quick and precise solution.

Free PDF To JPG Converter has no problems with the appearance of text, paragraphs, images, tables, enumerations, infographics in PDF files - whether a password-protected PDF file is a complete and reliable solution for all of these.
It is extremely simple to implement and requires virtually no IT expertise. Focuses on the user's convenience and speed to maximize conversion of a PDF document to JPG/JPEG image format in an instant and reliably. Images generated from PDF can then be reused with additional software as needed, immediately after the conversion process.
Convert PDF files to JPG image format
The process of PDF-to-JPG conversion has not been so easy. In the development of the Free PDF To JPG Converter software, the easy-to-use and free-of-charge aspect was a priority and the conversion of PDF files into JPG images is built up to meet this requirement. Scanning a PDF file can be made easy by having drag and drop support and the interface elements are easy to read. After making your selection and some basic adjustments, you can begin converting PDF files to JPG images. In addition to password-protected PDFs, multipage PDFs are also supported. In this case, on the output page, you should select the option Create Subfolder to output images to a folder you specify. You can also set the JPEG quality and rotate the output images if necessary. These settings really only require a few basic clicks, a novice user can easily perform these file conversion operations successfully.
Setting parameters before the conversion process
Basic fine-tuning may also be necessary to achieve the desired result, which can be done taking into account the needs of the output side. In all cases, the format of the images produced from the input PDF will be JPEG with a .jpg file extension. Other adjustable parameters include a page range which is optional, but can also be useful if, for example, only a few pages need to be converted from a source PDF file of several hundred pages. Page ranges can also be separated by commas and independent page ranges can be specified as desired. On the output side, it is possible to set the JPEG image quality, which determines the quality of the rendered image from the PDF, as well as the file size of the final JPG image. There is no need to specify the physical pixels (image dimensions), which are automatically determined by the program during the conversion process.
Ease of use and clarity
The Free PDF To JPG Converter user interface is designed to meet the initial user criteria and is easy to navigate. Input PDF settings and options are separated from the JPG options of the output image in the program. The metadata of the source PDF becomes available after scanning, helping to better determine the scope of the finished image files. A click will open the PDF document and view the image file path in an external viewer before setting the parameters for the output JPEG image.
Visual elements to aid conversion
Prior to the conversion process, it is possible to examine the PDF document to be converted, finalize the pages to be converted for the processing process. After loading the PDF source document, it is possible to view the opened PDF using an external document reader application. It is then possible to determine the page range and whether it is necessary to rotate the final images. This external PDF viewer is not part of the Free PDF To JPG Converter software, in which case the PDF document is displayed using a system application for managing the PDF format, e.g. Acrobat Reader or Foxit Reader.
Comparison of PDF and JPG image conversion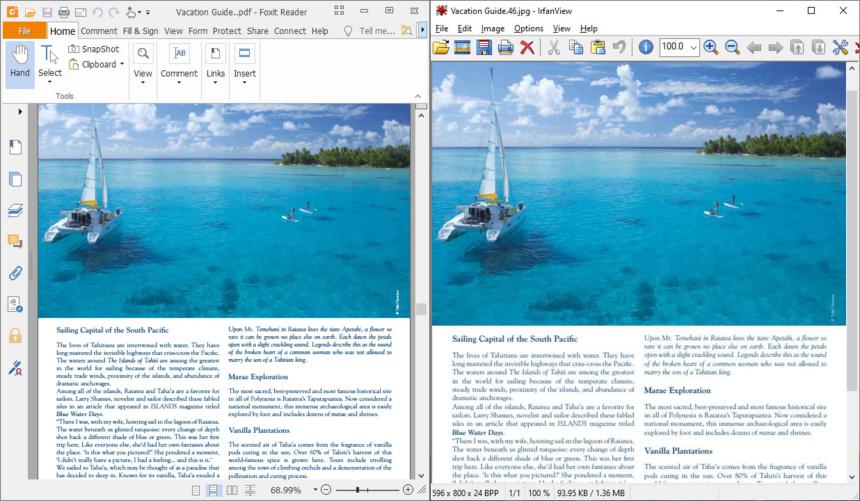 Download the free PDF to JPG conversion software
Working in a home, office, business, educational or non-profit environment, file-based workflows may sometimes require some PDF files to be converted into JPG images. The resulting image can be edited, edited, printed, shared with other users as needed. Download and use the Free PDF To JPG Converter application, no longer have to bother with complex settings and parameterization during PDF-JPG conversion. With simplicity in mind, we have developed this free software that is available for use without cost or restriction under any conditions of use. Click Download to begin converting PDF documents immediately after installation.
Free software solution to convert PDF files to JPG images
An unlimited number of PDF files can be converted to JPG images with this free-to-use computer software that provides a clear and easy-to-use interface. By selecting the PDF file you want to convert to JPG using the Free PDF To JPG Converter application, PDF metadata appears, after which you can specify the page range and the output image quality. In addition to the JPEG Image Quality value, anti-aliasing is turned on automatically and the parameter of rotating a JPG image is also available. Pages are rendered using a conversion internal algorithm similar to PDF rendering in web browsers. The application supports multipage and password-protected PDF files. Adding the final images to a subfolder avoids confusing the JPG image files during successive conversion operations.
Lightning fast PDF to JPG conversion
Whatever the reason for converting PDFs to some image format, Free PDF To JPG Converter provides an excellent solution for Windows operating systems. The PDF pages selected for conversion will be prepared by a properly prepared rendering mechanism by setting the appropriate parameter values. The PDF format is device-independent, which means that regardless of the operating system or device used, it can reproduce the content and format and, most importantly, preserve the layout of the document. The rendering engine used by the software performs this device simulation as quickly as possible, mapping the PDF content and layout onto the output image surface pixel by pixel, thus transforming the source PDF document into an image.
JPEG image files at the center of content generation
The output image format produced by the software is a JPEG file with a .jpg extension that is known and supported by all graphic operating systems, whether Windows, Linux or MacOS, so there is no barrier to using the extracted PDF content in the form of an image. This is often necessary if, for example, you want to display the contents of a PDF file directly on a website, attach it to the body of an email or even need to further edit it with graphical image programs or use it in page-layout programs. Many graphic software are available for the processing of completed JPG images. Photoshop, InDesign, Illustrator, Gimp, IrfanView. The aesthetic placement of images on the surface is essential for content generation, since the relevance of visual information, in addition to text and other content, is the user's first priority.
Unlimited use in any working environment
After extracting output images from PDF files, you can use them as you wish in any applied production environment. With free usage, there is no limit to the area of use of the converted images and no limit to the working environment - be it home, work, business, education, non-profit, individual or professional use. Using Free PDF To JPG Converter converted JPG images from PDFs in additional areas is optional and since the software is free to use, it can be used in the most efficient ways.
Free PDF To JPG Converter user interface with options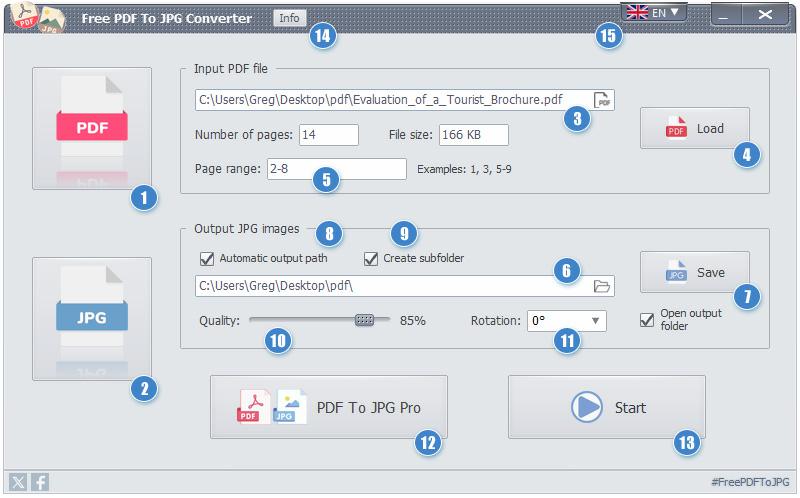 Open the configured source PDF in an external manager
Open output JPG image files with external manager
Specify a path to a source PDF file
Load PDF to convert
PDF page-range option
Enter the path to output JPG images
Select an image file backup path
Auto output path switch
Create output subfolder
JPEG Quality Option
JPG image rotation angle
Optional external PDF to JPG converter
Conversion Start/Stop
Display software information
PDF conversion steps to JPG images
Add a PDF file to convert or click the source file path
If necessary, adjust the page range based on the sample (leave blank page range data field to convert all pages)
Set the file path for output JPG images (if auto file extension is on, this can be overridden by setting a direct path to output JPG images)
Enter the image quality value for JPEG encoding (80% is the default)
Adjust the angle of rotation of output images if needed
Click start to begin the conversion
Wait for the end of the conversion process shown as a percentage of the progress indicator
When converted images are created, click to view results
Convert PDF file to JPG format
Converting PDF files into an image format presents special challenges for the computer application performing the task. The Free PDF To JPG Converter software has focused on the free approach in its category, in addition to reliability and accuracy. The simple structure reflects this attitude, which can also be seen in the program user interface. The design also included a layout for novice users. The PDF conversion can be finalized with a few basic parameters and the JPG images are generated according to the settings. The defaults for JPEG include automatic anti-aliasing and software definition of image dimensions, which uses a default DPI (dot per inch) value.
Output image file naming
After setting the output folder for the images, the application will create the converted images from the PDF file within this folder. The images will be named the same as the source PDF file name. If the image file already exists in the output folder, the file will be renamed. In the output settings, it is also possible to create a subfolder - this can be done by setting a switch - in which case the created images will be placed in this folder. Using this will avoid mixing between processed documents.
Rotate PDF pages to output images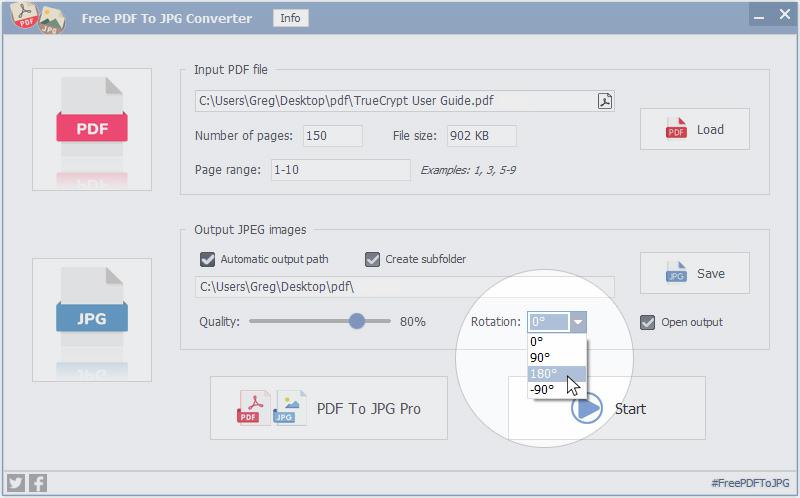 Fine-tune JPEG images
To achieve the right output image quality, Free PDF To JPG Converter allows you to specify some basic settings. For example, for JPEG encoded images, the "Quality" indicator can be set as a percentage. JPG images use a lossy image compression algorithm, including Huffman encoding. This is characterised by the fact that a higher value of image quality results in a better, more beautiful image, while a lower value is the opposite. A higher quality value results in better image quality and a larger file size. Another adjustable output image property is rotation. If necessary, set this value to the appropriate angular rotation. You can check whether rotation of images is required by opening the PDF preview.
Support for PDF file properties and password protection
Free PDF To JPG Converter supports the conversion of multipage and password-protected PDF documents into JPG format. When opening password-protected PDFs, the user must enter the opening password (using Adobe terminology - user password). After a password is entered, access metadata in the PDF, such as page numbers and content information, is available. Password-protected PDFs use an encryption algorithm to protect the content of a PDF text, lists, lists, tables, images and infographics that you protect from unauthorized access. Passwords that you enter will be stored in the workflow. Obviously, you cannot convert a password-protected PDF without an unknown opening password. In PDF to JPG conversion, you can specify page ranges that apply to PDFs that contain more than one page. Use this option to output JPG images from specific pages only.
Data security under user control
The software produces the processed data and files only with its own conversion solution and only stores them on the user's computer under secure conditions. Free PDF To JPG Converter does not use any external network file conversion technique, it does the conversion exclusively itself. The application is built and operates completely independently of other computer programs and does not require any external software libraries other than system requirements. PDFs and other created JPG images used by the conversion process remain under the user's control and control at all times.
User interface of Free PDF To JPG Converter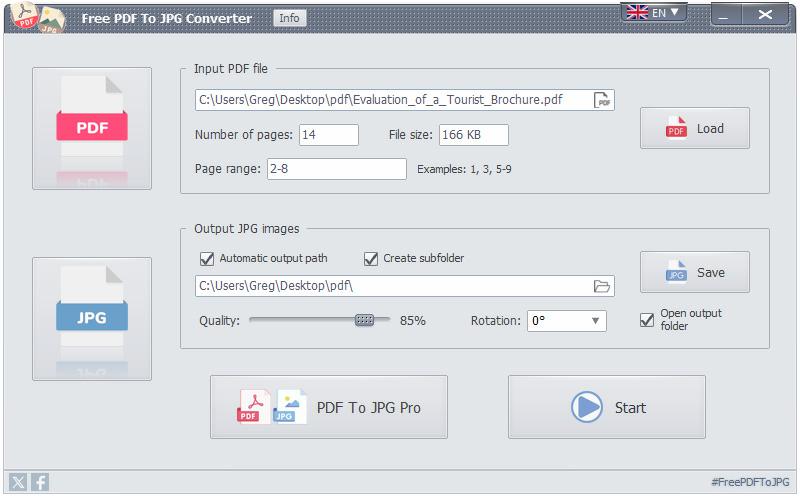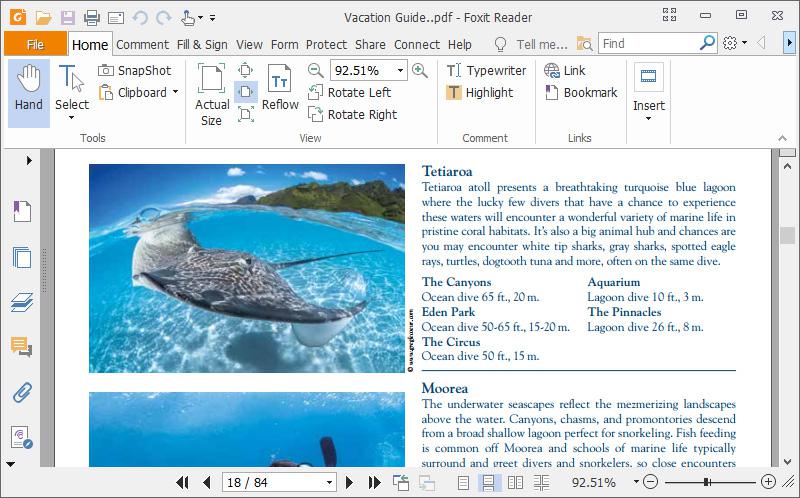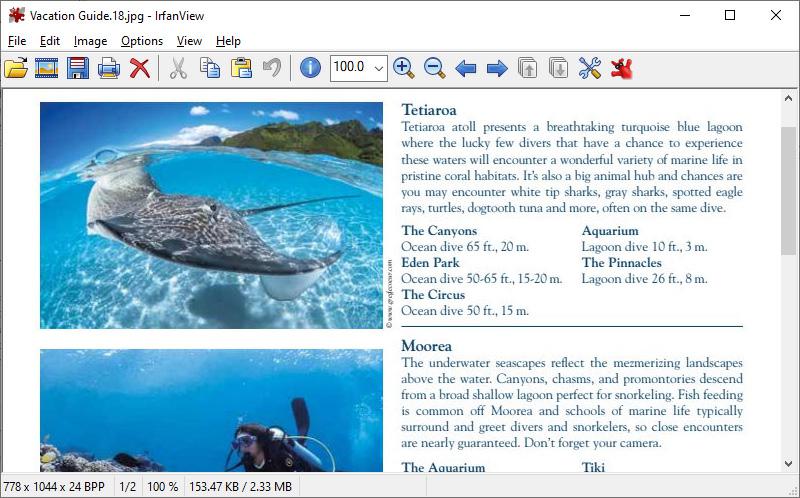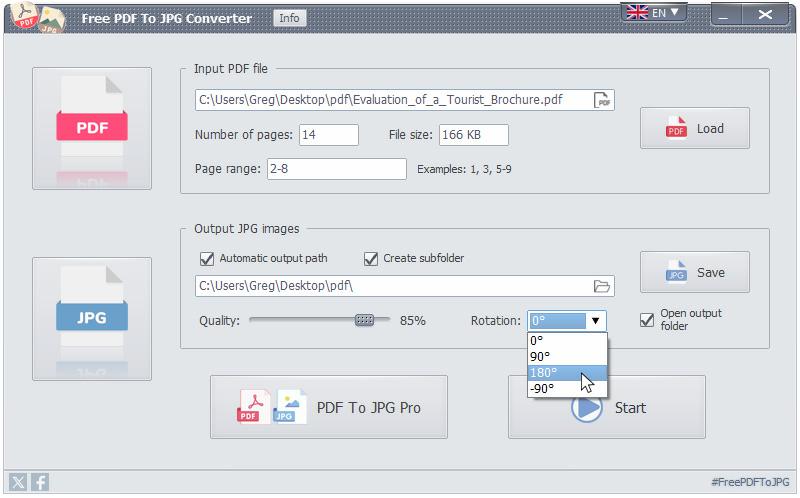 Free PDF To JPG Converter software features
Reliable and accurate PDF conversion to JPG images
Free to use in any work environment
Quick conversion operations
Source PDF content and format retention
Password protected PDF file support
Manages multipage PDF files
Rotatable output images
JPEG anti-aliasing and optimization
Auto DPI image resolution
Unicode file support
No page number limit
Page-range selection
Supports output subfolders
Drag and drop function
External display support
Manage embedded images
Versatile usage variations
Detailed documentation and tutorials
Standalone internal operating mode
No additional software required
Easy to use
Data security and privacy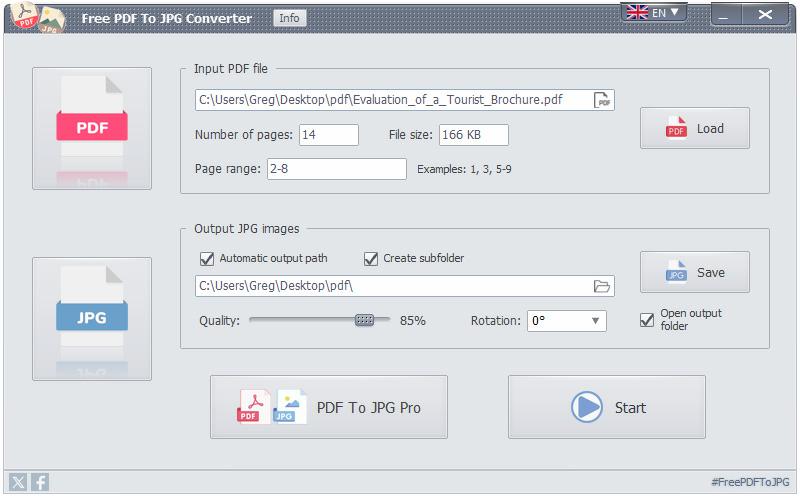 Application name:

Free PDF To JPG Converter

Short description:

Free PDF to JPG image converter application

Current version:

4.06

Language:

English

Release date:

May 31, 2023

Installer file size:

20.65 MB
It's time to converting PDF files to JPG images
The Free PDF To JPG Converter is packed with a multitude of impressive features that make the conversion process seamless and hassle-free. With its user-friendly interface and functionality, this free software is a good solution for anyone dealing with PDF files regularly.
Enhancing PDF-JPG conversion experience
This free PDF to JPG converter offers a plethora of exceptional features that make it stand out from the rest. It supports multi-page PDF files, allowing you to convert entire documents effortlessly. Moreover, password-protected PDF files are not a challenge for our software - it handles them flawlessly. With accurate content handling, the conversion ensures that images are faithfully reproduced. You can also adjust the JPEG quality setting, rotate output images and convert specific pages or page ranges according to your requirements.
Excellent conversion companion
Free PDF To JPG Converter not only excels in performance but also provides a seamless user experience. The easy-to-use, intuitive graphical user interface (GUI) ensures that even novice users can navigate the software effortlessly. The drag-and-drop support simplifies the conversion process, allowing you to effortlessly add files. This software offers support for external file viewers, enabling you to view converted files in your preferred application. With standalone installation and data and user protection, you can trust that your documents are stay safe and secure.
Questions about Free PDF To JPG Converter software
Converting PDF files to JPG images can be necessary in various scenarios. One common reason is when you need to extract specific pages or images from a PDF document. Converting to JPG format ensures compatibility across different platforms and devices, making it easier to view and manipulate the images. Another situation where PDF to JPG conversion is useful is when you want to incorporate PDF content into presentations or web pages that require image formats. By converting PDFs to JPGs, you can seamlessly integrate the content and maintain the visual integrity of the original document. Additionally, if you're working with a password-protected PDF and need to extract images or pages without the need for the password, converting to JPG format can be a convenient solution.
One primary use of PDF files is in document sharing and collaboration. Whether it's business contracts, academic papers or legal documents, PDFs ensure that the formatting remains consistent across different devices and platforms. Moreover, PDFs are widely employed in the publishing industry, as they preserve the layout, fonts and graphics of printed materials. E-books, user manuals and brochures are commonly distributed in PDF format, ensuring a seamless reading experience. Additionally, PDFs are extensively used for archiving and storing important documents, thanks to their ability to compress large files while retaining their quality.
The device independence of PDF files is a remarkable feature that sets them apart from other file formats. Device independence refers to the ability of PDF files to be displayed and printed consistently across different devices and operating systems. Whether you open a PDF on a computer, tablet or smartphone, the layout, fonts and graphics remain intact, ensuring a consistent viewing experience. This versatility is achieved through the use of a self-contained format that includes all necessary information for rendering the document accurately. With device independence, users can confidently share and distribute PDF files, knowing that the content will be displayed as intended, regardless of the device or platform being used.
PDF and JPG are two popular file formats that serve different purposes. PDF, short for Portable Document Format, is primarily used for preserving the formatting and integrity of documents. It is ideal for sharing and archiving files while maintaining the original layout, fonts and graphics. PDFs can contain text, images, hyperlinks and even interactive elements like forms. On the other hand, JPG or JPEG, stands for Joint Photographic Experts Group and it is a common image file format. JPG files are compressed to reduce file size and are best suited for photographs and other complex images. Unlike PDFs, JPGs do not support text selection, hyperlinks or interactive features. While PDF is versatile and suitable for various document types, JPG is specifically designed for visual content, making it an optimal choice for images displayed on websites, social media or digital presentations.
JPG files, also known as JPEG files, possess distinct characteristics that make them widely used for storing and sharing visual content. One prominent feature of JPG files is their ability to achieve high compression rates, reducing file size without significant loss of image quality. This makes them ideal for web and digital applications where efficient file storage and faster loading times are crucial. Additionally, JPG files support millions of colors and can display complex gradients and fine details, making them well-suited for photographs and intricate graphics. However, it's important to note that JPG is a lossy compression format, meaning that some details may be lost during compression, resulting in a slight decrease in image quality. Nonetheless, with their widespread compatibility and efficient compression, JPG files remain the go-to format for many digital images.
JPEG image quality is a crucial aspect to consider when working with JPG files. It refers to the level of compression applied to the image and directly affects the file size and visual fidelity. The JPEG quality setting allows users to strike a balance between file size and image quality. Higher quality settings result in larger file sizes and better image reproduction, with fewer compression artifacts. Conversely, lower quality settings reduce file size but may introduce visible distortions, particularly in areas with fine details or sharp transitions. Finding the optimal balance between image quality and file size is essential to ensure the desired visual outcome for web uploads, digital presentations or printing.
Huffman encoding plays a significant role in the compression of JPEG images. As a lossy compression format, JPEG uses various techniques to reduce file size while preserving image quality. Huffman encoding specifically focuses on encoding the image's frequency of occurrence for different pixel values. By assigning shorter codes to more frequently occurring pixel values and longer codes to less frequent ones, Huffman encoding efficiently represents the image data. This process significantly reduces the file size without a substantial loss in visual quality. By employing Huffman encoding alongside other compression methods, JPEG achieves impressive compression ratios, making it a widely used format for digital images on the web and in various digital applications.
Image anti-aliasing is a technique used to smooth jagged edges and reduce pixelation in digital images. It addresses the issue of staircase-like artifacts, known as aliasing, that occur when there is a mismatch between the resolution of an image and the display device. Anti-aliasing works by blending the colors along the edges of objects, creating a smoother transition between different color values. This technique adds subtle gradations and softens the edges, resulting in a more visually pleasing and realistic representation of the image.
DPI or dots per inch, is a crucial measurement that determines the resolution and print quality of an image. It refers to the number of dots or pixels that can be printed within one inch of physical space. The higher the DPI value, the more detail and sharpness the image will possess when printed. Typically, images with higher DPI are suitable for printing purposes, such as photographs or professional graphics, as they result in crisp and detailed output. On the other hand, images intended for web or digital display often have lower DPI values to optimize file size and loading times.
Local file conversions refer to the process of converting files that are stored directly on your device. This type of conversion takes place locally, utilizing the processing power and resources of your computer or mobile device. On the other hand, network file conversions involve uploading the file to an online platform or service, where the conversion is performed on remote servers. Network conversions offer the convenience of converting files without requiring powerful local hardware, as the heavy lifting is done in the cloud. However, they rely on a stable internet connection and may involve uploading sensitive or confidential files to third-party servers. Local file conversions, while requiring adequate hardware and software, offer greater control and privacy, especially when dealing with sensitive data.
A free PDF to JPG image conversion software
A no-cost software solution, Free PDF To JPG Converter is a computer application that allows you to convert an unlimited number of PDF files to JPG image format using the easy-to-use GUI functions. The free-to-use program provides fast and reliable help for home, personal, educational, non-profit or business use. The application converts PDF files one by one according to the output JPEG image settings. Convenient solutions include drag-and-drop functionality and an external PDF and image viewer. The resulting JPG images are delivered to the preset folder in a structured and organized format as a result of the PDF to JPG conversion workflow.
Free PDF To JPG Converter software offers a user-friendly interface and an array of impressive features. It supports multi-page PDF files and can effortlessly handle password-protected PDF files. This free PDF-JPG converter software ensures accurate content handling, preserving the quality of images during the conversion process. User have to adjust the JPEG quality setting and rotate output images as needed. It also allows for converting specific pages or page ranges, catering to individual requirements.
The application boasts an intuitive graphical user interface (GUI) that makes it easy for both novice and experienced users to navigate. Drag-and-drop support simplifies the process of adding files for conversion. Additionally, it supports external file viewers, allowing users to view their converted files in their preferred application. Standalone installation ensures convenience and portability. The software prioritizes data and user protection, ensuring secure handling of documents.
Related content - Professional PDF to JPG Converter
When working with the free version of the PDF to JPG converter software, you may need to use a sub-converter with professional features, much more functionality, but with similar features. Such features may include batch file processing, multiple output image formats, built-in PDF viewer, independent embedded image extraction, color spaces setting, image sampling, rotation, possibility to control output image properties. In this case, we can consider FM PDF To JPG Converter Pro application, which has such system features and performs PDF to JPG conversion operations completely and quickly. In addition to the wide range of adjustment and fine-tuning features, the management of fixed profile templates also provides exceptional utility during regular use of the program.