With simple settings, you can create an unlimited number of QR codes for any purpose using the software. The production of standard QR codes is ensured by a reliable and fast library which uses the text content provided as a parameter to create the desired output QR code image file with the help of some switches and controls. The free app gives you the ability to quickly generate the QR code you need. The simplicity of the program, its user-friendly interface and its speed, allows you to generate images in real time, which means that the input text content changes are immediately followed by the QR code image changes.

QR codes can be encountered in many places, mainly containing additional information on products, website URLs, social networking content, promotional codes, email addresses, Wifi accesses and information on a wide range of other uses. With Easy QR Code Generator software, you can create your own static QR codes with custom data content, whether for home, work, non-profit or business purposes. The app that you can install on Windows systems is a cost-effective solution because it can be used for free in any application and conditions. The software operates on its own and does not require the installation or existence of any additional programs. Taking into account the security of the data, the operation of the software as well as the information managed remain solely on the user's computer and under the control of the user.
The Easy QR Code Generator application is designed to efficiently and quickly generate images represented by static QR codes. QR codes are two-dimensional barcodes commonly used in the world of smartphones and widely used in industry, product manufacturing, websites and marketing. Smartphones almost always contain a camera module with at least one special scanner software to detect QR codes, so any QR code can be read on these devices. The QR code allows some error correction algorithms to encode up to four thousand characters within a two-dimensional image.
Quick QR code creation with instant solution
What is really worth mentioning from the features of the Easy QR Code Generator software is included in the program name. Its ease of use allows for very fast output according to specified parameters. The input content change is immediately displayed to the user in the image preview area. The image generated by QR code can be saved on the local computer in a specified image format. Supported output image formats are BMP, GIF, JPG and PNG, which can be saved with an optional pixel encoding level. These formats are widely known and can be edited for further processing using appropriate external software.
Generate QR codes with a few clicks
Generating your own QR codes has never been easier. Not only is the speed of the software remarkable, but also the ability to copy the QR code image directly to a clipboard with the click of a button. The image copied to the clipboard is then immediately available from any other external graphics application. This means that the QR code image can be used directly after data entry and does not necessarily need to be saved in image format. The easy-to-use interface can be reset to the default program settings at any time. Even if the QR code image is created with the default settings, you can be sure that it will be safely and error-free readable by any optical barcode scanner.
Easy-to-use user interface
The user interface is simple and easy to understand and use, even for novice users. The left side of the screen displays the image of the QR code, with the data field below it, which also contains the input information. The parameters of the code are set using the controls on the right, which control the technical properties of the QR code. The displayed image can be saved to the file format of your choice by clicking on the "Save" button. The "Copy" button can be used at any time to copy the current image to the clipboard for processing by an external graphics program.
Free QR code generation
One of the main objectives of the development of the Easy QR Code Generator application was the free use of the software in any work environment. If you want to use QR codes produced by this product for home, corporate, non-profit, educational, cultural, marketing or business purposes, this is not a problem in either case. The software is free to use and allows you to create unlimited numbers of QR codes. It can be installed on any computer with a Windows operating system. The operation of the software, as well as the storage and processing of data processed by the user are stored only on the machine running the program, no one else has access to it.
The possibility to use QR codes with Easy QR Code Generator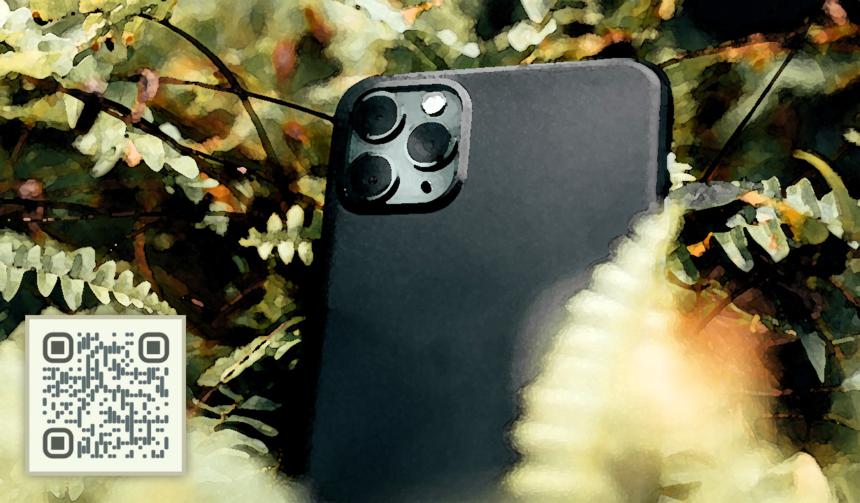 Download the QR code generator software
With the Easy QR Code Generator app, you can create free-to-use QR codes in any quantity, without restrictions. QR code image files can be used as graphical elements of web pages, illustrations, digital publications, PDF files, product packaging, etc. QR code can be shared, printed, copied directly to the clipboard and further edited by other external graphics programs. In addition to the simple and easy-to-read user interface, the speed, versatile usability and free use of the application are also available. Easy QR Code Generator does not require other program options to be installed. You can use the software in any environment without restrictions and the managed data remains under the control of the user at all times.
Create QR codes with free software
The software generates static QR codes based on the specified text-based data content, taking into account some technical settings. It can convert both plain text and special content that is encoded in UTF. Special types of data can include e.g. SMS, email address, personal contact information, phone number, website URL, social media sharing, cryptocurrency information, appointment/event, phone call, Wifi access, vCard data. With Easy QR Code Generator, QR codes can always be saved in a supported image format (BMP, GIF, JPG, PNG). You can also copy the displayed image to the clipboard, allowing the image being copied in this way to be processed by an external graphic program. Of course, it is possible to generate several QR codes, the individual codes should be entered sequentially and saved in sequence.
Possible multiple uses
The Easy QR Code Generator was developed to produce images from any number of QR codes (Quick Response code) with simple set-up options. Free-to-use software for any purpose allows the user to generate the output QR code image with the required data content. QR codes are used in a wide range and are useful due to the characteristics of the information carrier and have become common with the spread of smart mobile phones. The software can generate static QR codes according to the input text data and save them in different image formats. The QR code image copied to the clipboard can be directly inserted into an external photo or image watermarking application as a new watermark layer. Its most common distribution is in the world of the Internet, where it usually stores URLs, community shares, e-mail addresses, product codes, which allow the use of the camera functions of mobile devices to access encrypted information.
QR codes in any applied environment
QR codes are not only widespread in the world of the internet, but also in industry, design and manufacturing technology. Originally developed by Denso Wave, which still owns the QR code trademark. QR codes generated with Easy QR Code Generator software can be freely used for any purpose. Save the QR Code image in the size you need and process it with a suitable graphics, image editing or publication editing software. If necessary, upload it to your website in a browser-supported format (GIF, JPG, PNG) and set the appropriate URL link. On social networking sites, it can also be used as an icon, logo or profile picture, which can be an excellent way to store and communicate relevant information about the social networking site.
Display of Easy QR Code Generator with controls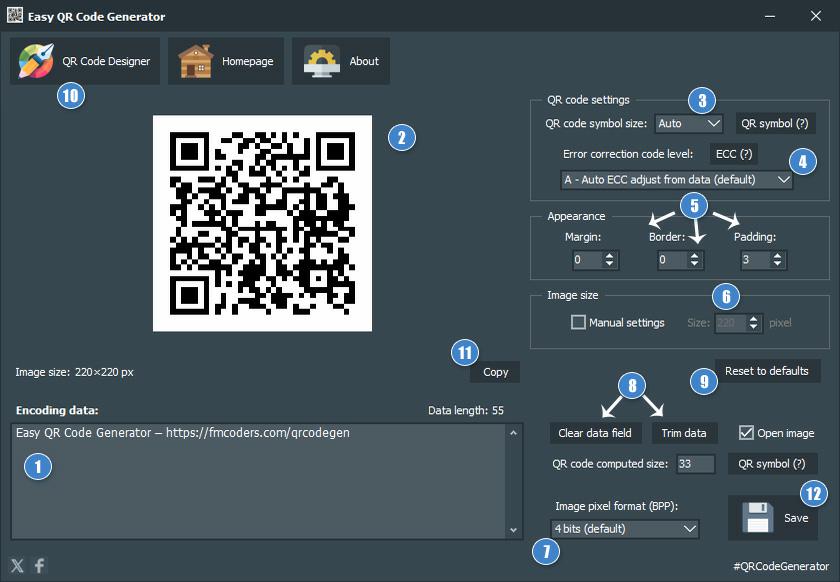 Data entry field to be encoded with UTF support
Real-time image of the QR code being edited
QR Code symbol size setting
Error correction level (ECC) adjuster
Image display options (margin, border, padding)
Specify output image dimensions in pixels
Optional technical option for image pixel format
Data entry text box edit buttons
Program defaults
Optional custom QR code creation application
QR code image copy to clipboard
QR code to save in supported output image formats (BMP, GIF, JPG, PNG)
Steps to produce an output image
Enter the input data to be encoded by filling in the input field exactly (data field 1)
You can immediately see the result of modifying the input content in the image area (display area 2), which shows the image of the real QR code
Adjust appearance (controls 5) to set the basic appearance of the QR code image
QR code settings can be further refined by the control of technical options (radio buttons 3, 4)
Specify the image size to determine the resolution of the output image format (in pixels)
If you don't need to save the QR code as a file, you can use the "Copy" button to copy the image to the clipboard (button 11)
Before you save, you can specify output image format (BMP, GIF, JPG, PNG) pixel format settings (7)
Click "Save" to save your QR code image to the specified file
Once saved, the file is physically created in the selected folder, which, depending on this option, can be displayed using the operating system's default image manager
Streamlined QR code generation
There are several software solutions that produce QR code, some of which are free-to-use applications. These include Easy QR Code Generator, which is a free to use QR code generator software in any application environment - home, education, business, non-profit, marketing, economics, health, etc. You can use QR codes created by the application for any purpose and place, whether it is a web page image, product information display, Word document embedded image, Photoshop or InDesign graphics source file. Regardless of the task, you can generate and use the generated static QR code image files at no cost.
The symbol size
The smallest element of QR codes, which normally consist of black or white square image areas, is called a symbol. These symbol areas may be separate or connected. The use of color combinations other than black and white was made possible by modern high-resolution optics. Static QR codes that can be created by Easy QR Code Generator use this original standard specification, but different software for creating custom QR codes is also available. The size of the QR codes symbol determines the physical parameters of the image (pixel width and height). The minimum symbol size is the 21 symbol units and the maximum is the QR code, which is 177 symbol units. The symbols consist of position recognition patterns, timer patterns, format information, error correction level and data information. By default, the "Auto" symbol is defined as a combination of error correction level and depending on the input data.
The most important picture settings for the QR code image you are editing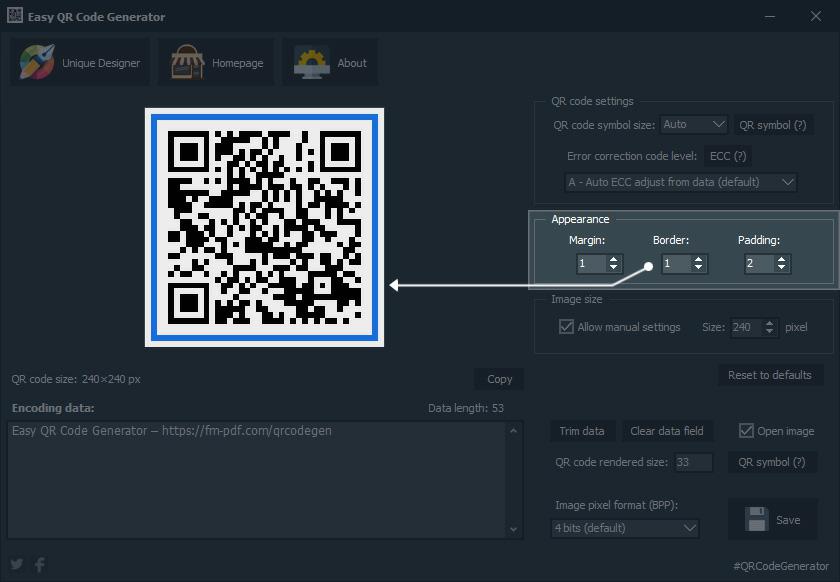 Error correction level setting (ECC - Error Correction Capability)
QR codes also include additional error correction to aid image recognition in all cases that use Reed-Solomon error correction coding. This error correction algorithm allows the decoding of valuable data content even if the QR code is corrupted or incomplete. The Easy QR Code Generator supports four error correction levels (ECC) according to the standard, as well as an "Auto" level that automatically adjusts this value according to the data content. The ECC level value affects the size of the QR code symbol. The ECC levels of the Reed-Solomon code can be as follows, which define the maximum possible error correction level in percentage:
Auto - Automatic (algorithmic calculation)
L - Low (7% data loss)
M - Medium (15% data loss)
Q - Quality (25% data loss)
H - High (30% data loss)
Image output image formats (image pixel format)
The QR code image corresponding to the settings can be copied to the clipboard at any time, if necessary. The image copied to the clipboard can be processed by an external graphics program, pasted into a document and used in any way you like. If the image is to be saved in a supported output image format, it is possible to set the pixel format of the image beforehand, which is only a technical feature of the image, but may involve data compression. This can be 1, 4, 8 or 24 bits per pixel, the default (4-bit) pixel representation being adequate in most cases. The image of the QR code can be saved to a background drive by pressing the "Save" button. The supported output image formats are GIF, BMP, JPG/JPEG, PNG, the selection of which depends on the needs and can be adjusted as desired. The recommended image format is PNG (Portable Network Graphics), which is also the default format. The PNG output image format is one of the most widely used, be it for graphic image processing, document editing, infographics creation or even online use.
Data security during use
There are many QR code generating software and applications, most often you can encounter online solutions. Generating a QR code online is the easiest way to use it, but in return, you need to take some forced steps to use the service. This typically requires at least one registration, creating a user account through which a QR code can be generated from a browser. In fact, this has more drawbacks than advantages, because our data can and does fall into the hands of external parties. This can cause serious data security problems. With the Easy QR Code Generator program, concerns about online data management can be forgotten, because the application only uses offline QR code generation, without the use of any other additional (third-party) software. All data handled and used remain under the full control of the user.
Easy QR Code Generator software user interface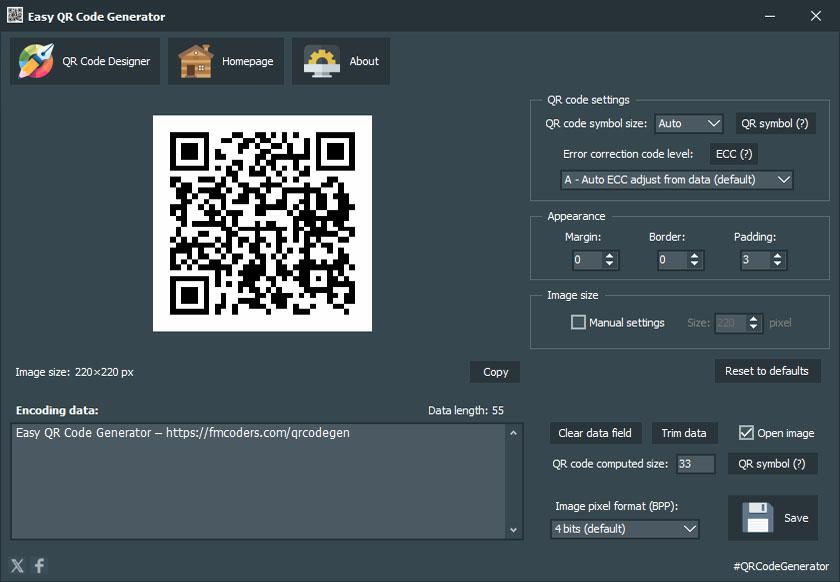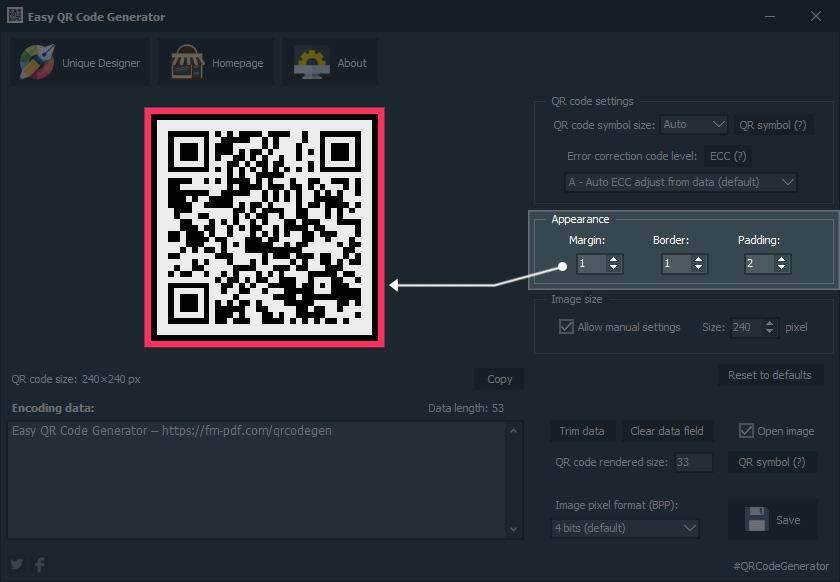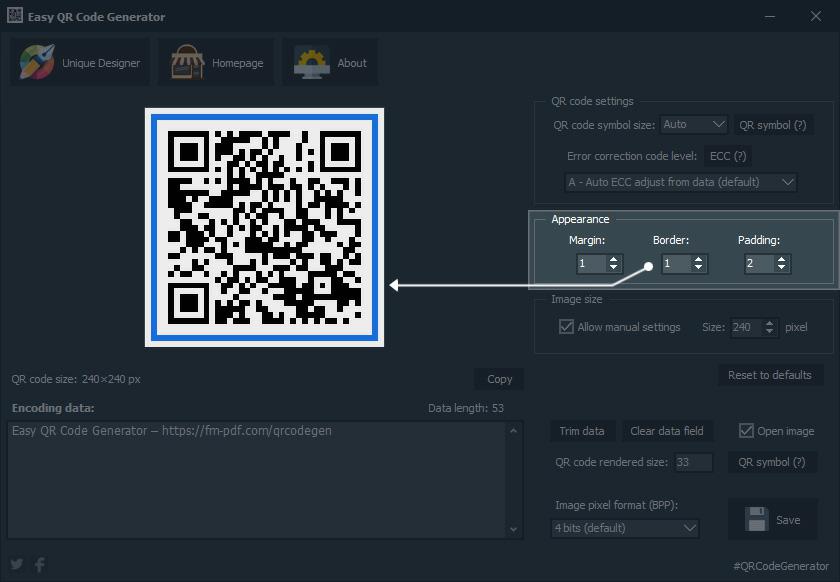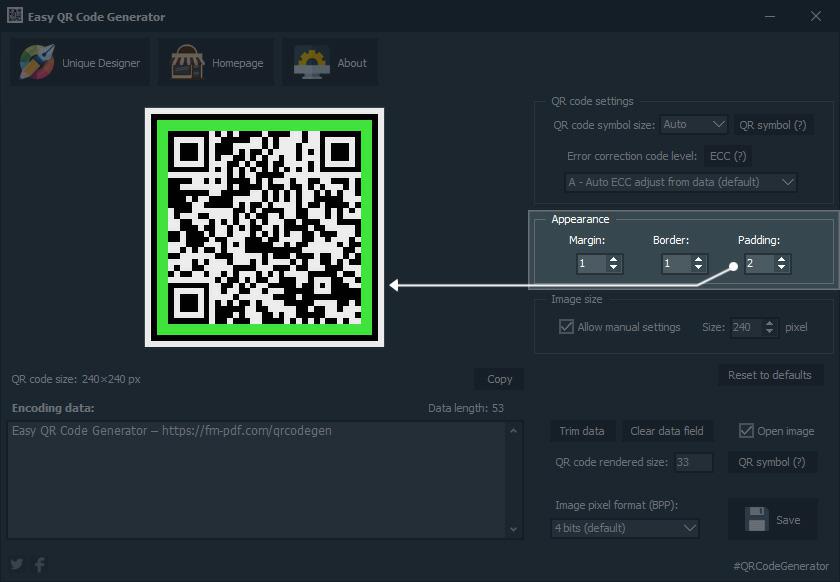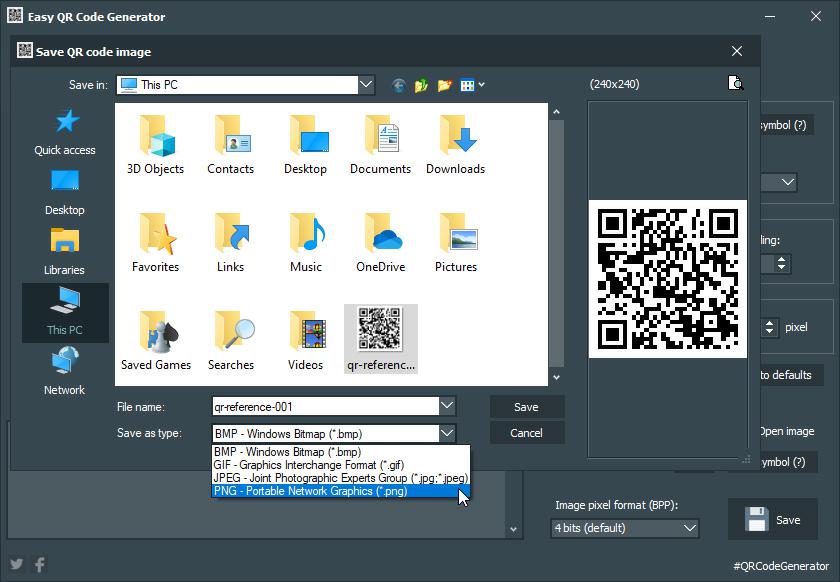 Easy QR Code Generator software features
Lightning-fast QR code generation
Free and unlimited usage
Real-time imaging
Generate standard QR code
Automatic QR code symbol sizes
Multi-level error correction (ECC)
Fine-tuned visual appearance
Adjustable image sizes
BMP, GIF, JPG, PNG output image formats
Auto DPI image resolution
Easy to use
UTF encoded input data
Clipboard support
Image pixel format (BPP) option
Auto image resolution
Adjustable external visualization
Closer interface
Free updates
Versatile usage option
Detailed documentation and tutorials
Standalone installation, internal operation
No additional software library needed
Provides a high level of data security and protection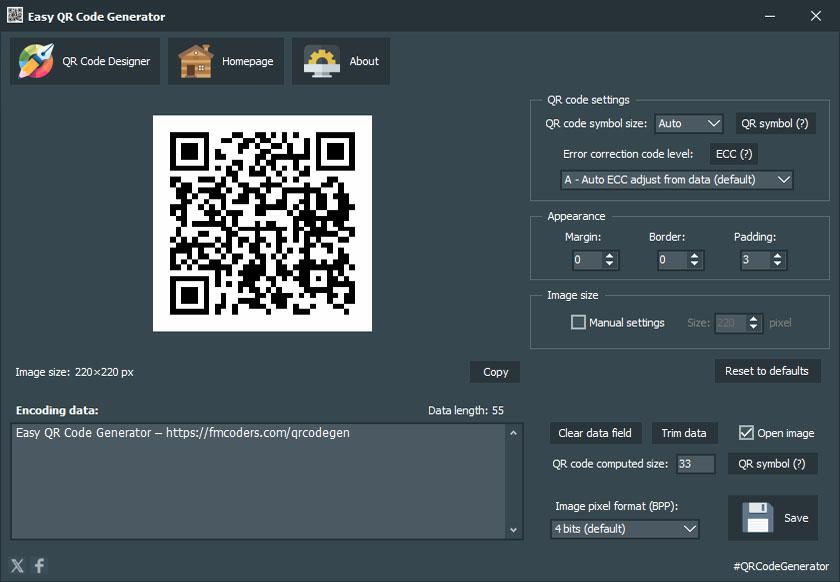 Application name:

Easy QR Code Generator

Short description:

Free QR code generator software

Current version:

1.8

Language:

English

Release date:

June 22, 2023

Installer file size:

16.12 MB
Quick and free QR code creation
Easy QR Code Generator is a completely free computer software capable of generating QR codes (Quick Response code or 2D barcode) in various output image formats. The application can generate an unlimited number of static QR codes, operated by a software library that allows for lightning-fast, real-time display.
QR codes in all areas
There are many places where QR codes can be found in press, product packaging, Internet, official documents, photographs, posters, announcements, etc. As smartphones proliferate, QR codes return text results that can be easily understood and read by anyone after successful scanning of the QR code. Industry and manufacturing have been using QR codes for decades because of their versatility. Easy QR Code Generator is a free application that runs on Windows operating systems, allowing anyone, regardless of their usage, to generate QR codes that match the desired data content.
Simple and clear operation mode
In addition to its precise and reliable operation, the application's speed and easy-to-use interface help you generate QR codes from input UTF-encoded text data. With default settings for automatic symbol size and error correction capability (ECC) level, the QR code image is immediately available in the preview area of the screen. The generated image can be saved to the desired folder with a single click by specifying one of the supported formats (BMP, GIF, JPG/JPEG, PNG). The resulting QR code can be uploaded to a website or social networking site at any time, processed as an illustration, email-, document attachment or graphic object. The program is self-contained, so no other additional software needs to be installed or present to use it. The data you process is secure because the software uses its own QR code generation algorithm, allowing full data protection.
Questions about Easy QR Code Generator application
QR codes or Quick Response codes, are two-dimensional barcodes that have become increasingly prevalent in today's digital world. They are capable of storing various types of information, including URLs, text, contact details or product information. The uses of QR codes are vast and diverse. From marketing campaigns to contactless payments, QR codes have found their way into advertising, packaging, event tickets, digital menus and more. They enable quick and easy access to information or actions by simply scanning the code with a smartphone or QR code reader. Their convenience, versatility and ability to bridge the offline and online worlds have made QR codes an integral part of modern communication and interaction.
Behind the simplicity of QR codes lies a fascinating technical background. QR codes are created using a matrix of black and white modules, with each module representing a bit of information. These codes use error correction techniques, such as Reed-Solomon error correction, to ensure that even if a portion of the code is damaged or obscured, it can still be read accurately. QR codes support various data types, including URLs, text, email addresses and more. Additionally, QR codes can store large amounts of data compared to traditional barcodes, making them versatile and widely applicable.
The QR code symbol holds meaning beyond its visual representation. The square shape and the positioning markers in the corners enable easy detection and alignment during scanning. The patterns of black and white modules encode the actual information contained within the code, ranging from website URLs to contact details. Additionally, the quiet zone around the QR code ensures that it is clearly distinguishable from any surrounding elements.
The ECC (Error Correction Capability) level of QR codes is an essential aspect that determines their resilience to damage or distortion. QR codes can be generated with different ECC levels, ranging from L (Low) to H (High). The ECC level determines the amount of redundancy added to the code, allowing it to withstand various degrees of damage. Higher ECC levels provide greater error correction capability, making the QR code more robust and readable even if it is partially obscured or damaged. Choosing the appropriate ECC level depends on the specific use case, with higher ECC levels being suitable for critical applications where readability is crucial, while lower levels may be sufficient for less critical scenarios.
The Bitmap Picture Pixel Format (BPP) is a vital aspect of digital image representation. It refers to the number of bits used to represent the color of a single pixel in a bitmap image. The BPP determines the range of colors that can be displayed, with higher BPP values offering a larger color palette and greater color depth. Common BPP values include 1-bit (black and white), 8-bit (256 colors), 16-bit (65,536 colors) and 24-bit (true color). The BPP impacts image quality and file size, with higher BPP values resulting in more accurate color reproduction but larger file sizes.
BMP, GIF, JPG and PNG are popular image formats, each with its unique characteristics. BMP (Bitmap) is a lossless format that preserves image quality but often results in large file sizes. GIF (Graphics Interchange Format) is best suited for simple images and animations, supporting transparency and limited color palettes. JPG (Joint Photographic Experts Group) is a lossy format that achieves high compression, making it ideal for photographs but may lead to some loss of detail. PNG (Portable Network Graphics) is a lossless format that supports transparency and is widely used for web graphics and images with sharp edges.
UTF encoding, short for Unicode Transformation Format, is a character encoding scheme that facilitates the representation of various characters and symbols from different writing systems and languages. It provides a standardized way to encode and decode text in a digital format, ensuring compatibility across different platforms and devices. UTF encoding supports a vast range of characters, including those from ASCII, Latin scripts, Cyrillic, Asian scripts and many others.
The optical scanner is a remarkable technology that has revolutionized document processing and data capture. Also known as a document scanner or image scanner, it converts physical documents into digital images. The scanner utilizes optical sensors to capture the text and images on the document's surface and then translates them into electronic form. Optical scanners have become invaluable in industries such as banking, healthcare and administration, enabling efficient document management, archival and data extraction.
The 2D code, also known as a two-dimensional code, is a type of barcode that represents information in both vertical and horizontal dimensions. Unlike traditional 1D barcodes that can only store limited data, 2D codes have the ability to encode much more information, including text, URLs, contact details and even multimedia content. These codes come in various formats, such as QR codes and Data Matrix codes and can be easily scanned by smartphones or dedicated scanners.
Free QR Code generator
The Easy QR Code Generator application offers a great opportunity to generate QR codes, which provides full and free use without cost to create unlimited number of QR codes. The program uses a real-time image generation method, so you can see an image in the display area as soon as the input text data changes. In addition to the default technical settings, you can directly specify the symbol size, the error-correcting-ability (ECC) level and the output image resolution.
The user interface is easy to use and easy to read and provides easy operation for users with less experience in QR code creation. It does not require technical background knowledge and with the default settings it is immediately able to generate a picture of the QR code according to the input data. The output image formats supported by the application are BMP, GIF, JPG and PNG bitmap formats that can be specified on request when saving. If necessary, you can control the pixel format of the image. It is not necessary to save a QR code image, it is possible to copy the displayed image to the clipboard for further processing.
Easy QR Code Generator can be used in any environment and without restrictions, it allows the software to produce QR codes that comply with the standard. Free use of the program allows you to convert text input on demand into QR codes, which can include product information, URLs, email content, social sharing, Wifi access, cryptocurrency transactions, plain text, sms, event, etc. When creating QR codes, the data used is completely secure and the application uses its own algorithm to generate the images.
Design QR codes with a unique look
The Easy QR Code Generator app makes it extremely efficient and fast to produce QR codes.
In addition, the need to give QR codes a unique look can often arise, for example, in marketing campaigns, industrial design, website editing, publishing, graphic design work, etc. The uniquely designed and even mass-produced QR codes are certainly attractive, their application emphasizes the uniqueness and specialty of the company, product, marketing campaign, website. The Visual QR Code Designer has been developed for this purpose, which allows you to design and create QR codes with unique shape and color, special appearance and design.
Create customised QR codes
The Visual QR Code Designer software supports a wide range of symbol shapes, pre-designed templates, color palettes, multiple export options, so you can export multiple file formats at once. It also supports native encoding of multiple content types, including URLs, plain text, social sharing, email, phone call, SMS, WiFi hubs, cryptocurrencies and events, all with a multilingual user interface. Using professional design software, you can create unique QR codes with up to vector output file formats and also easily convert bulk data into batch mode QR codes.