The Image Watermark Studio is an efficient watermarking software that provides custom watermarks for digital images and photographs. Add your name, website address, product mark, dates, copyright notice, company logo to your photos and images. With this free software, you can watermark hundreds of photos and images at once with a few clicks.
We can watermark our existing images with various properties, which can provide additional visual information on watermarked images in many applications. With free batch mode watermarking software, dozens of photos, photos from entire albums can be watermarked in one step and easily. Just drag some images to the list, select the watermark type, set the desired parameters, and then export them as a watermarked image in one minute. This computer software is available for Windows operating systems.
Brief summary of Image Watermark Studio software
Photos, pictures, photo albums, from travel etc. complete photo collections can be watermarked in groups and freely with this batch mode computer program. Images drawn or added to the list will be watermarked in order according to the set values ​​by this free software. Image Watermark Studio provides both text and image based watermarking. For example you can specify the font, color, placement, visibility value, rotation, resize, JPG image quality, EXIF and IPTC image metadata of the watermark text. It is also possible to adjust the colorspace (RGB, grayscale, monochrome) values. Image-based – PNG and other formats – watermark settings are also supported, so company logos and brand trademarks can be placed on the output images. The process of settings can be visually tracked, ie the changes can be seen in real time. This free-to-use personal software provides an excellent way to watermark images and photo albums at the same time with an easy-to-understand user interface.
Easy photo and image watermarking
Free for personal use
Image and text-based watermarks
EXIF and IPTC camera metadata handling
Batch processing mode
Image copy protection
Fast processing method
Special character handling
Drag & Drop support
User-friendly graphical interface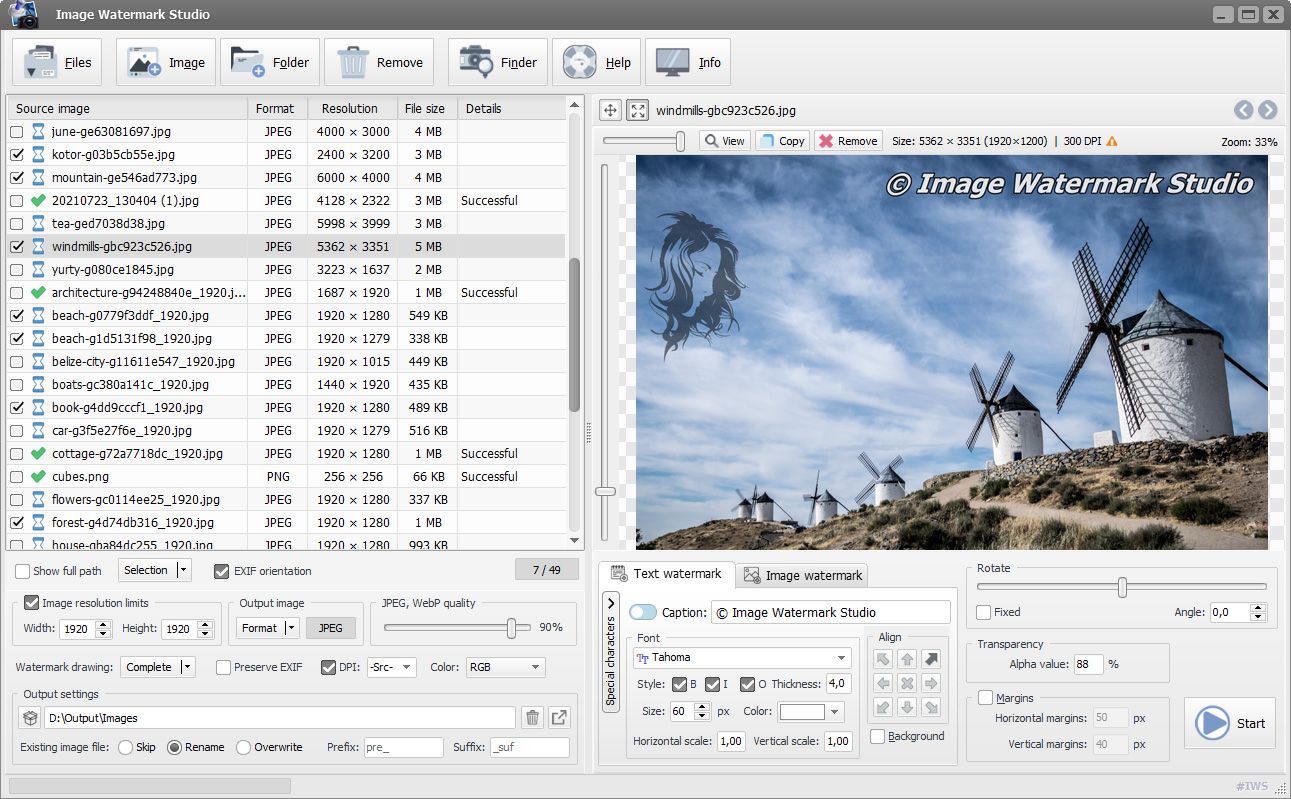 Application name:

Image Watermark Studio

Short description:

Photo and image watermark software

Current version:

2.0

Language:

English

Release date:

December 28, 2022

Installer file size:

15.00 MB
Software's quick overview
With a few simple clicks, you can watermark photo and image files in batch mode using Image Watermark Studio. Display your personal photos or images of your corporate publication with text content or company watermarks.
You can place both text- and image-based watermarks in a controlled manner with a number of setting options with visual display support. You can create up to hundreds of digitally watermarked images in one step, regardless of content. Depending on the usage environment and the features used, the software can even be used free of charge.