This easy-to-use document converter computer application can be used to convert your PDF files to Word format. Free PDF To Word Converter is a software that can help you instantly convert your existing PDF files into editable formats for home, personal, business or even educational use. The application is free to use without restrictions in any work environment with Windows operating systems and its small size allows it to work at high operating speeds.

Widely loved and applied PDF files can be modified without loss of quality or they can only be modified in a burdensome way. In everyday work, this can often be difficult or problematic, as this free PDF-to-Word converter offers, which is designed primarily for converting text-based PDF files, but Word documents produced by it can also contain embedded images. Once you have selected a PDF file, you only need to use a few settings to produce an accurate output Word format. Once created and converted, editable Word document files can be edited at any time with a suitable document editing software.
Convert PDF files to Word document format
Free PDF To Word Converter software has been developed with a primary focus on keeping the structure as simple as possible. This includes a simplified, frills-free user interface that greatly improves the clarity of the application. Looking at the interface of the program, the areas for the input source PDF file format and the output Word file format are clearly separated. This clearly defined basic concept is maintained throughout the PDF to Word conversion process.
Parameterizable conversion setting options
You can specify the most important parameters for both the input and output sides. For source PDFs, the option to set the range of pages to convert is available in addition to the scanned PDF metadata. Free PDF To Word Converter also provides fine-tuning for output Word files, such as accessing images embedded in a PDF document and specifying the basic mode of processing.
Visual add-ons for PDF conversion
Prior to the conversion process, it is worth examining and reviewing the PDF document to be converted, finalising the pages to be defined for the processing. After loading the PDF source document, it is possible to view the opened PDF with an external reader with a single click. This PDF viewer is not part of the Free PDF To Word Converter software, in all cases it is displayed using the application installed on the Windows system and used to manage the PDF format.
Word document with basic settings
In general, a Word document may have a number of properties, including so-called metadata, which is not directly visible to the user and which does not affect the conversion process from PDF. This free PDF to Word Conversion app offers you only the most necessary options for achieving a quick and efficient result, aiming at simplicity. These include the ability to insert bitmap images contained in the PDF document, which the software can embed without problems into the output Word document. The other content - texts, paragraphs, tables, lists, etc. - which are perhaps the most important structural building blocks of a text-based document, are converted to either default or normalized mode. Valuable text content will be available in an editable form after the conversion process is complete, best suited to preserving the layout of the source document.
Multilingual software support
The user experience is further enhanced by the multilingual user interface. When the program is started, it starts with the default language settings taken from the system, which can be changed at any time. The language settings used are synchronised with the availability of the Free PDF To Word Converter software support website. The language settings will of course be preserved the next time the application is started, after which the application will communicate with the person using the application in the language preferred by the user.
PDF to Word conversion with Free PDF To Word Converter software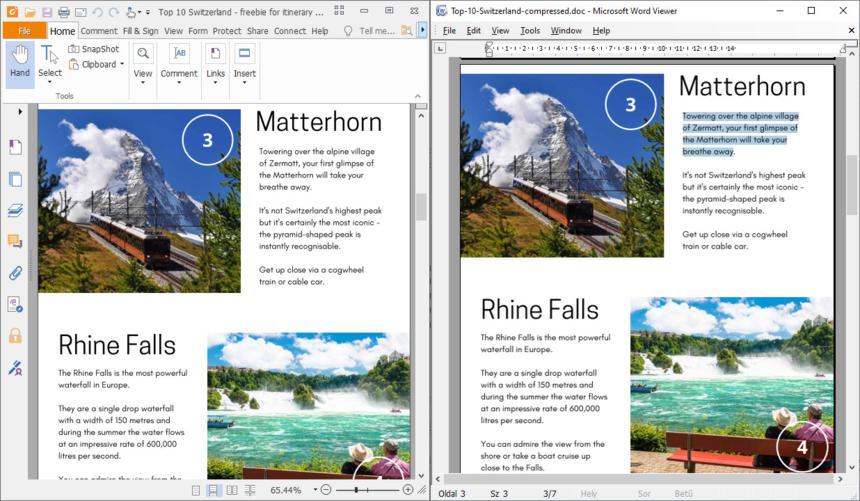 Download the free PDF to Word converter application
In home, office, business, educational file-based workflows, it is sometimes unavoidable to convert an existing PDF file into an editable Word document format. The resulting Word document can be edited, printed or shared as needed.
Download and use the Free PDF To Word Converter application, no longer have to bother with complex settings and parameterization during PDF-Word conversion. With this simplicity in mind, we have developed this free and cost-free software for anyone to use without charge or restriction under any circumstances. Click Download to begin converting documents immediately after installation, without any restrictions.
Free PDF to Word document conversion process
The deservedly popular and widespread PDF file format is popular with many for its portability and versatility, but there is often a need to convert or modify them for content or form reasons. Because PDF files cannot be modified directly, you may need to convert them to an editable format, such as Word, using the Free PDF To Word Converter. This problem can easily be helped by this software developed for PC that converts a document from a free PDF to a Word document, which converts the input PDF file to Word (.doc) format for further editing at the touch of a button using intelligent technology.
Advanced software solutions for PDF to Word conversion
Post-editing of non-editable PDF files has been problematic since the introduction of the file format, because the original PDF format concept does not provide for post-editing of already created PDFs. In the absence of the original source files (e.g. InDesign .indd format), it is not possible to produce a modified PDF file. Over time, a number of software solutions have been developed, ranging from online PDF to Word converters to conversion software for various operating systems. Among these, Free PDF To Word Converter is one of the free-to-use, reliable applications of this kind that has been on the picon for a long time.
Focus on content-driven document conversion
Since this is actually content extraction - and then by recompiling the data content, a desired output format can be produced that can be easily modified and edited by anyone. The most common word-processing application is the well-known Word application within the Microsoft Office suite, but there are a number of other excellent word-processing and editing applications available, such as OpenOffice and LibreOffice. Besides the main objective, which is the PDF files to be processed, the criterion of preserving the formal layout is also an important consideration. This is achieved by the basic formatting option in this free PDF to Word converter software, which can be enabled in the output Word document settings.
Versatile document editing options
Free PDF To Word Converter produces an editable output format after processing the source PDF file, which is converted into a format that can be interpreted by a generic document editor. The Word document can be processed not only on Windows, but also on MacOS, Linux, using the appropriate management software. Once you create an editable Word document, you can save it, edit it, add to it, print it and share it with your colleagues.
Free PDF To Word Converter user interface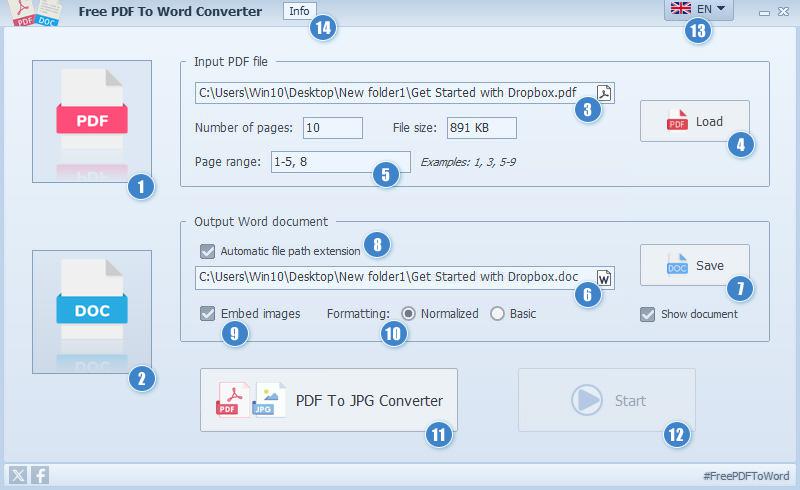 Open specified source PDF with external manager
Open converted Word document file in external manager
Specify a path to a source PDF file
Load PDF to convert
Page range specification
Select path to output Word document
Select output path for a Word file
Optional path with autocomplete
Embedded pictures (optional)
Word document layout format options
Optional external PDF to JPG converter
Conversion start/stop
Program language selection menu
Display software info
Steps to convert PDF to Word documents
Add a PDF file to convert or click the source file path
If necessary, adjust the page range based on the sample (leave the page range text field blank to convert all pages)
Set the save path for the output Word document (if auto file extension is on, you can override it by specifying a direct path)
If extracting PDF embedded images is required, leave this option turned on
Specify how the content is laid out in the Word document
Click on Start button
Wait for the end of the conversion process shown as a percentage of the progress indicator
When the output Word document is complete, click to view the file in an external viewer
Unlimited document conversion with a few clicks
Free PDF To Word Converter software has been developed with a focus on fast, accurate, simple and free operation. The user interface, combined with minimalist configuration options, has resulted in a compact layout that is very easy to learn and transparent even for a novice user. The graphical user interface (GUI) experience is complemented by a subsystem supporting 24 different national languages, which is an integral part of the software. The graphical interface, built with ease of use and operation, makes it easy to perform the desired efficient and fast PDF to Word conversion operation.
Support for password protected PDF files
This PDF to Word document converter application also supports the conversion of source password protected PDF documents. When you set password-protected PDFs as input files, you need to enter a password to open them. If you do not do this, the meta and content information in the PDF cannot be read, so you must know passwords to open and transform the document. Password protected PDF typically requires at least the content data portion of the file to be encrypted from unauthorized persons. Of course, unauthorized PDFs cannot be opened, the processing of encoded files requires knowledge of the opening password. After entering your password, you can manage the program's functionality the same way you handle PDFs without a password. The software keeps passwords already entered for PDF files opened with a password per session.
Confidential data in completely secure
In some cases, online PDF to Word converters are not transparent about the confidentiality of uploaded PDF files that users assign to the conversion process. Free PDF To Word Converter offers a completely traditional, offline solution, without the need for any cloud or other network resources. The software can be installed and used standalone and does not require any external software components other than the minimum system requirements. The files, documents and data managed are always under the full control of the owner and are fully secure.
Free PDF To Word Converter at work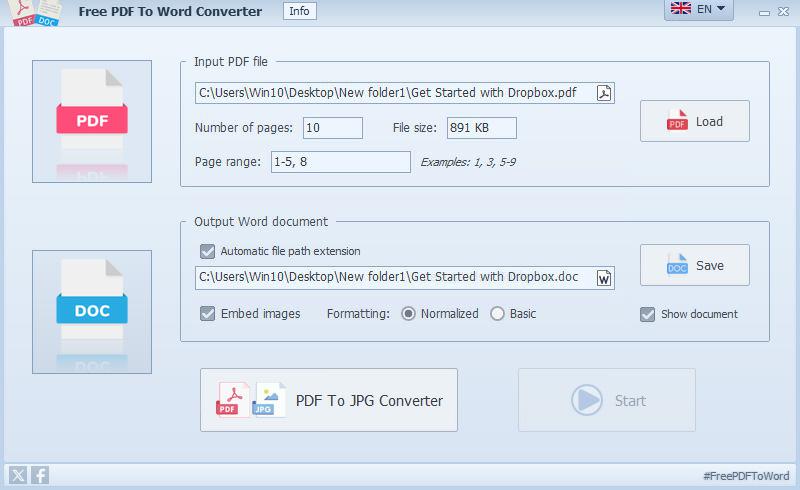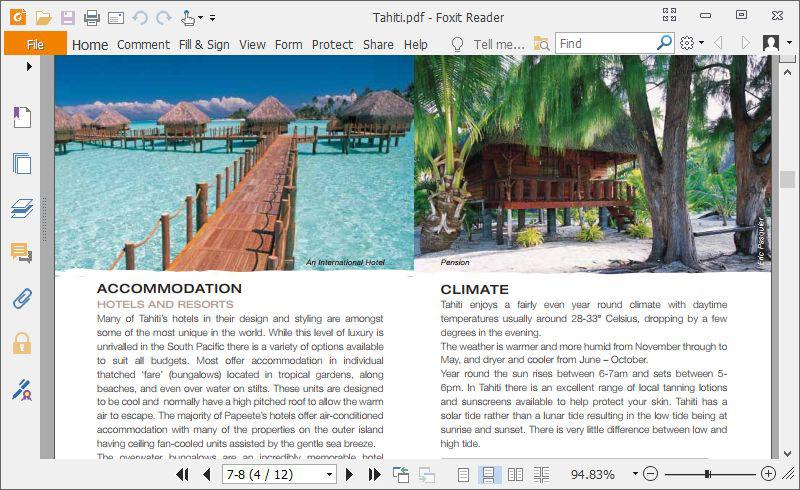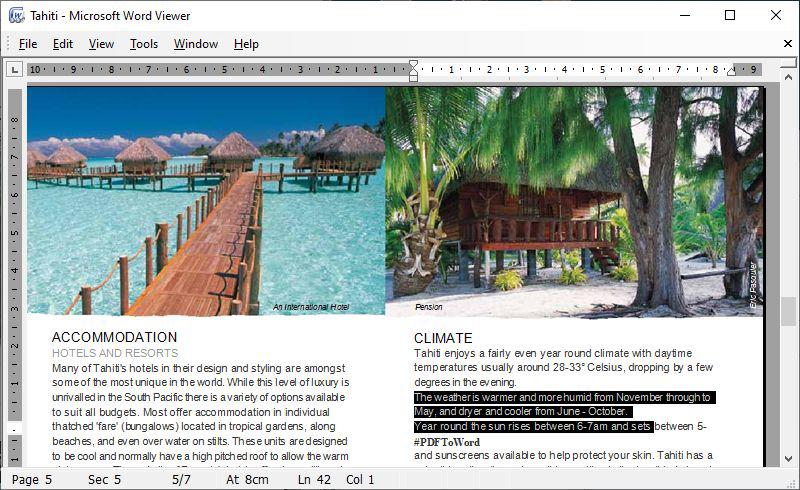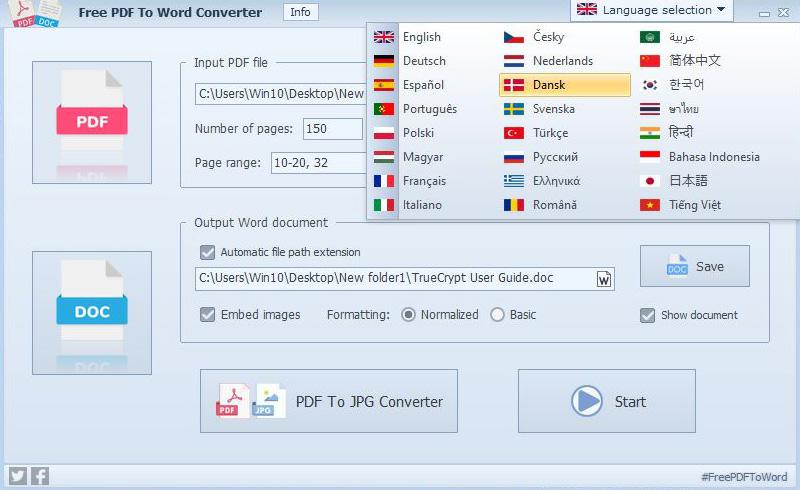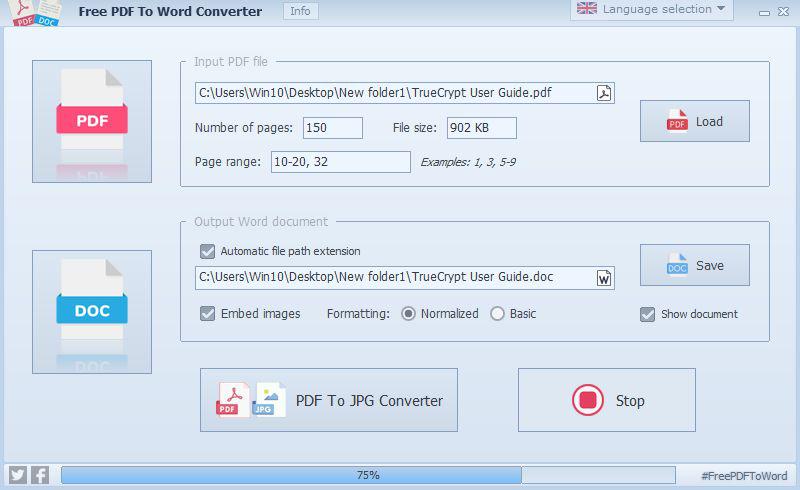 Free PDF To Word Converter software features
Seamless PDF conversion to Word
Free to use in any work environment
Multilingual user interface
Rapid conversion operation
Password protected PDF files
Multi-page PDF support
Editable output Word document
Text, paragraph, image, table, list management
Output Word document formatting options
Unicode file support
Easy-to-use user interface
No page number limit
Document layout preservation
Drap and drop support
External document display
Page ranges you can select
Versatile usage option
Detailed documentation and tutorials
Manage embedded images
Independent and unique mode of operation
No additional software required
Maximum security and privacy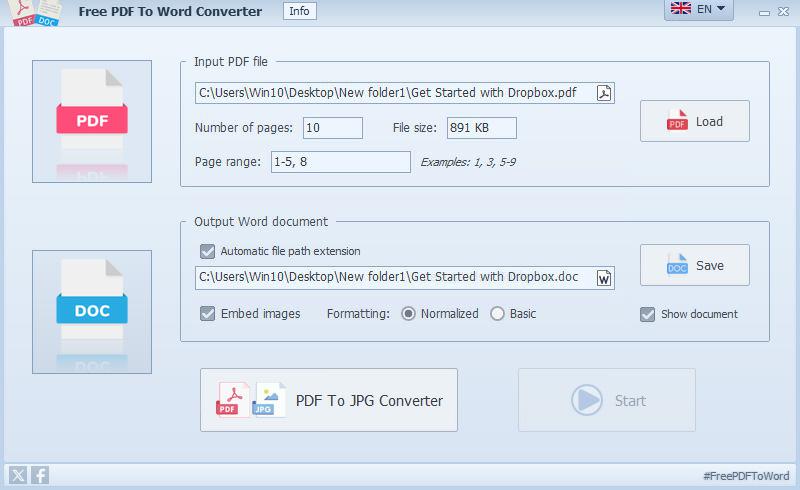 Application name:

Free PDF To Word Converter

Short description:

Free application for PDF to Word conversion

Current version:

4.07

Language:

English, Arabic, Chinese, Czech, Danish, Dutch, French, German, Greek, Hindi, Hungarian, Indonesian, Italian, Japanese, Korean, Romanian, Russian, Spanish, Portuguese, Polish, Swedish, Thai, Turkish, Vietnamese

Release date:

June 1, 2023

Installer size:

17.05 MB
Questions about Free PDF To Word Converter software
The versatility of PDF (Portable Document Format) files has made them indispensable in the digital world. They can be accessed and shared across different devices and operating systems without changing their appearance. PDFs preserve the original fonts, styles, images and layout of the document, giving a consistent look regardless of the software used. They also offer security features such as password protection, encryption and digital signatures to protect sensitive information. PDFs are designed to be small in size while preserving high-quality content, allowing easy storage and fast network sharing. They support interactive elements such as clickable links, bookmarks and a table of contents, making it easy to navigate through the document. When printed, PDFs maintain document integrity, ensuring consistent layout and design across different printers. In addition, PDFs are ideal for archiving large volumes of documents while maintaining accessibility and readability.
PDF files became popular for sharing documents due to their universal compatibility and uniform formatting. However, when it comes to editing and changing the content in a PDF, you often have limitations. This is where the significance of converting PDFs to the editable Word document format is demonstrated.

Converting PDFs to editable Word documents provides a powerful set of editing tools and features. Microsoft Word, as a widely used word processing software, offers countless options for manipulating text, formatting styles and graphics. From simple tasks such as deleting or adding sentences to more complex operations such as rearranging paragraphs or applying uniform formatting throughout your document, Word has the power to provide an unique editing experience.

For PDFs, text or data extraction can be a difficult process, often requiring special software or manual transcription. In contrast, Word documents offer a simple approach, allowing users to easily extract and recycle content. This can be particularly useful for researchers, students or professionals who need to quote or re-use information from a document.
If a PDF file is password-protected, this means that anyone trying to open the file must enter the correct password to view its contents. This security measure is designed to prevent unauthorised access and to ensure that only people with the right password can open and view sensitive or confidential information in the document. Password protection adds an additional layer of security, especially when sharing or distributing sensitive documents by e-mail or other means. It helps to protect the privacy and integrity of the information in a PDF file, ensuring that only authorised people can access it.
There is a wide range of software available for viewing PDF files, each with its own features and benefits. One of the most popular programs is Adobe Acrobat Reader, which is a free and reliable choice for opening and viewing PDF files. Another popular option is Foxit Reader, which is known for its fast performance and extensive annotation capabilities. In addition, web browsers such as Google Chrome, Mozilla Firefox and Microsoft Edge have built-in PDF viewers that allow users to open and view PDF files directly in the browser. From the wide range of software available, users can choose the one that best suits their needs to display PDF files efficiently and effectively.
The Microsoft Word document format, commonly known as .doc or .docx, is a widely used file format for creating and editing text-based documents. It is the primary format used by Microsoft Word, a popular word processing software. With the Microsoft Word document format, users can easily create, edit and format text, add images and graphics, create tables and charts, apply different styles and formatting options. It also allows spell and grammar checking and the use of templates for efficient document creation. The Microsoft Word document format ensures compatibility across different versions of the software, making it easy to share and collaborate on documents with others. The wide range of features makes it an indispensable tool for creating professional-looking documents, whether for business, academic or personal use.
Page range selection in a document file means that you can select a page range within the document for different purposes. It allows users to select a subset of pages instead of the entire document. This feature is particularly useful when printing, exporting or sharing a document, as it provides flexibility and control over content. By specifying a range of pages, users can choose to print only the relevant pages, extract specific parts or share a specific range of information with others. Page range selection increases efficiency, reduces paper and ink usage and allows for more targeted document management, making it a valuable tool for document file management.
Images in PDFs retain their original quality and resolution, ensuring they are sharp and clear. PDFs also support a variety of image formats, such as JPEG, PNG and GIF, giving you the flexibility to incorporate images. In addition, PDFs allow images to be compressed, which reduces file size without significant loss of image quality. Furthermore, images in PDFs can be embedded or linked externally, allowing for efficient organisation and portability of documents. PDFs also provide the ability to manipulate images, such as resizing, rotating and cropping, so users can customise the visual elements of a document.
Language support for computer programs is of paramount importance as it ensures accessibility and inclusiveness for users worldwide. By providing multiple language options, software can serve a diverse user base and accommodate individuals who are more comfortable or proficient in languages other than English. Language support facilitates effective communication, allowing users to understand and interact with the program interface, menus and instructions in their native language. This promotes user engagement and also improves the user experience as people can navigate and use the software more effectively.
Protecting files stored on your computer is crucial in today's digital age. Protecting your files helps prevent unauthorised access, data loss and possible loss or damage. By implementing robust security measures, such as strong passwords, encryption and anti-virus software, you can protect against malicious attacks and keep sensitive information from falling into the wrong hands. In addition, file backups and regular system updates ensure that your data remains safe even in the event of hardware failure or software vulnerabilities.
A free PDF to Word document converter
When converting between document formats, technical difficulties are often encountered, which are difficult to circumvent. This can include the conversion process between PDF and Word documents. The Free PDF To Word Converter computer program is capable of converting between PDF and DOC file types in any usage environment, making it easier for office, professional, business workflows. This free-to-use conversion app is recommended for any professional area that requires fast and reliable operating mode for applications developed for Windows operating systems.
Convert PDFs with Free PDF To Word Converter
Free PDF To Word Converter is packed with features that make converting PDF documents a breeze. Use it in any working environment for free. Whether you need to edit, extract or recycle the contents of your PDFs, this software has it covered.
Powerful features for smooth conversions
Free PDF To Word Converter supports multi-page PDF files, so you can convert the entire document in one go, saving time and effort. Worried about password-protected PDFs? This software handles them too, ensuring you can convert and access the content you need. From text, paragraphs and tables to images, the PDF converter preserves the exact formatting and layout of your documents. Unicode support eliminates language barriers, making it ideal for international users.
User-friendly and safe
An intuitive interface allows for seamless conversions and drag and drop support further simplifies the process. This software integrates seamlessly with external viewers for flexibility and convenience. In addition, the standalone installation ensures that you can use this converter without relying on external software.
Data security is our top priority, so the Free PDF To Word Converter software includes features that protect both your data and user information. Use this PDF to Word converter to reap the full potential of PDFs for easy editing and reuse.
Free PDF To Word Converter offers a number of powerful features in a user-friendly package. Supports multiple-page PDFs, manages password-protected files, accurately transforms text, paragraphs, tables, images and ensures compatibility with different languages. With easy-to-use drag and drop, support for external file viewers and robust data and user protection, our software is the ideal choice for easy conversion from PDF to Word.
Related Software - A free PDF to JPG converter application
If the majority of the content of your PDF documents is made up of embedded images, photos and other graphics, you may want to take a look at the Free PDF To JPG Converter software, which can convert the entire PDF file content into the well-known JPG image format. In addition to converting password-protected PDF files, it is also possible to rotate pages and adjust the quality of the output JPG/JPEG image files.