The application is the implementation of a clear, easy-to-use and fast solution for everyone, which is specially able to convert JPG/JPEG and some other commonly used bitmap format image files into PDF documents immediately. The program allows you to quickly convert selected images, photos, infographics and images placed in the list in order to PDF, with only a few output parameters. You also have the option of entering metadata in the output PDF before converting images.

Free JPG To PDF Converter is an easy-to-use, free photo and image converter computer program for Windows operating systems that allows you to convert JPG and other types of image formats into an output PDF document with a few simple settings and steps, by archiving them in an orderly sequence in batch mode.
Batch conversion of JPG images to PDF
To complete the conversion task, you will need to add image files to your image list (queue) after the program is downloaded, installed and started. Image files that are input can be made by adding the image or folder or by simply dragging and dropping selected images into the list. Clicking on an image list provides you with a direct view of the image file and its metadata, which is enabled by the built-in image renderer. The JPG to PDF conversion process is done sequentially, according to the order of the image list or queue. You can select items from this list of formulas at will, so you don't have to convert all the images at once. The indicated items in the containing list may be saved for future use.
Tune PDF settings
Set containing image list to place focus in the output area on the right. Here you can enter the metadata of the PDF (title, theme, author, keywords) that will be part of the header of the resulting PDF file. This feature may be useful in a future archiving workflow. You then specify the path to the output PDF file or folder, which can be a local path, a network path or a cloud path. Here a distinction is made between creating a separate PDF file or creating separate output files for each image. If you choose the latter option, you must specify the output folder. In this case, you can specify a prefix and suffix for the output name related to the PDF file name.
Image file operation
If you want to convert more than one image to a PDF, you can do smaller but useful tasks using the listed and supported image formats before you convert it, such as:
preview with default external image viewer
copy image to clipboard
delete picture from list (if no longer needed)
change list item order (move up and down)
set up picture elements to convert
sorts by various image attributes (type, image resolution, DPI, file size)
remove repeating images
Determine image order
Because the output PDF file contains embedded images on a page-by-page basis, it's important to arrange the images properly. Only those images that are selected for conversion are always converted. The images in the list are placed in order – from top to bottom – in the PDF file, so you need to specify the correct order. You can use the selections to move images in a list or group them, to determine their final order. After the Preparation settings are complete, click "Start" to begin converting images to output PDF.
PDF file with the converted and embedded images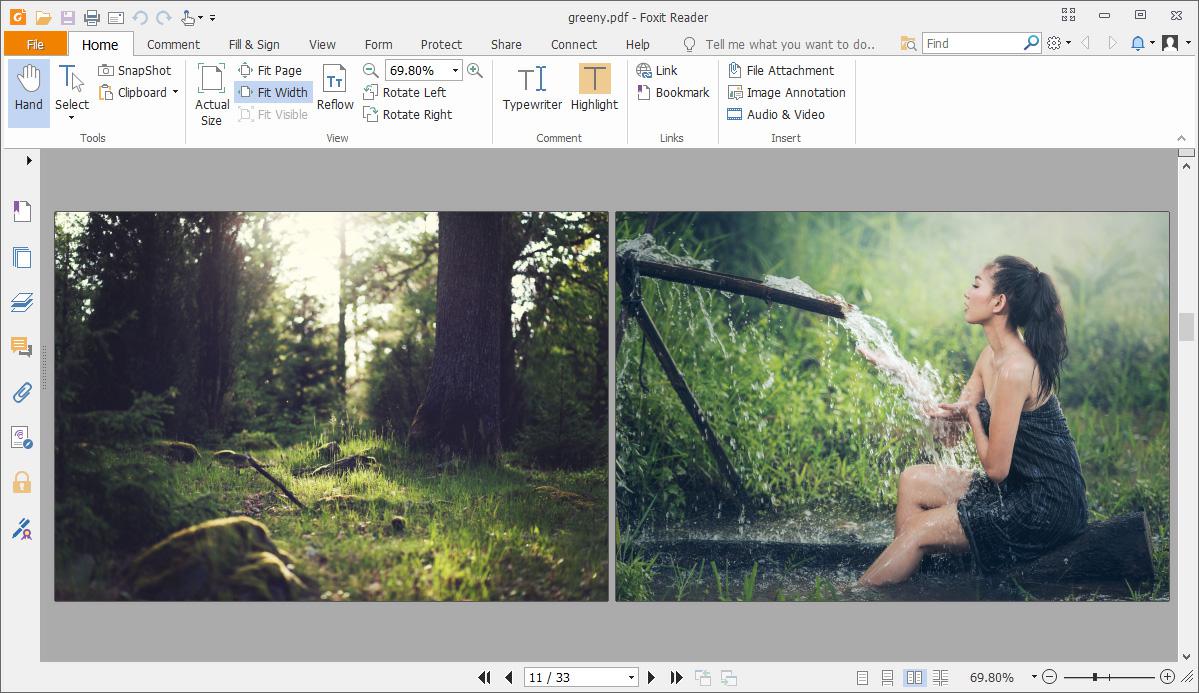 Download free JPG to PDF conversion software
Batch conversion software can be used for both business and personal purposes, to convert photos, images, other graphics files directly into PDF archive files. With free software and support for more than two dozen languages, you can convert any number of images into output PDF files in a single step. Free JPG To PDF Converter is free to use without registration for any purpose. Click the download button to begin the immediate image conversion process and after installation create PDF documents that contain the selected images.
Easy conversion of JPG images to PDF files
You can place many images, photos, graphics files in a single output PDF file using Free JPG To PDF Converter, which inserts the image content into the PDF in a queue in the order of the selection. With the free program, you can convert photos, images and other JPG or some other format of raster images, implemented with a batch processing mode, among others. You can add images to the list with a simple drop. You can also remove duplicate files with the touch of a button. Simply add the image to the list of JPG images and free software to output settings within a few seconds of being able to generate the PDF file you want to create. You can set metadata for the PDF, such as title, author, content and keywords. The user experience is further enhanced by the simple user interface and the two dozen national languages supported by the program.
Convert JPG images and photos to PDF
Often it may be necessary to convert our pictures or photos into a file, which will give these images a uniform appearance, but at the same time can produce the right quality. An excellent application example can be when you want to send images as e-mail attachments, but you want to preserve their integration in some way. Printing pictures can also be beneficial if the images, photos and page layouts are the same in consistent appearance. The PDF file produced by the software can also be used for downloading PDF documents that are accessible from the Internet and contain only images. Free JPG To PDF Converter can also handle very large images (50M+) and supports animated multi-frame GIF files (aGIF87, aGIF89) and multi-page TIFF formats to a limited extent.
Output PDF file of images
Two types of output PDFs can be generated from images placed in a corresponding order in the list. In the first case, the selected images are archived to a single PDF file and in the second case, the PDF file containing each image is created page by page. The images placed in the list can be grouped according to several sorting principles; e.g. image type, size, DPI, etc. – also some JPEG format related features - compression, embedding and EXIF image orientation options can be set. These options allow you to specify more precisely the output characteristics of the PDF file. You can save a queue of image files at any time or add a previously saved list to the existing queue. Another additional feature is "Image finder", which has a dedicated button and allows you to download and paste other image files (JPG, PNG) into PDFs from an external browser.
Use JPG-PDF conversion software
Free JPG To PDF Converter can be used for any purpose, regardless of the environment in which it is used. The program operates on the basis of local machine based solutions only, thus the confidential information cannot be released from the control of the user. It can create images, photos, infographics sequentially from an unlimited number of JPEG and other supported image formats (JPG/JPEG, BMP, GIF, aGIF87-89, JPEG-2000, ICO, PNG, PCX, PSD, TGA, TIFF, WEBP). Versatile use and free of charge allows for a wide range of uses from personal use to industrial, engineering, design, documentation or other office tasks.
Free JPG To PDF Converter software graphic controls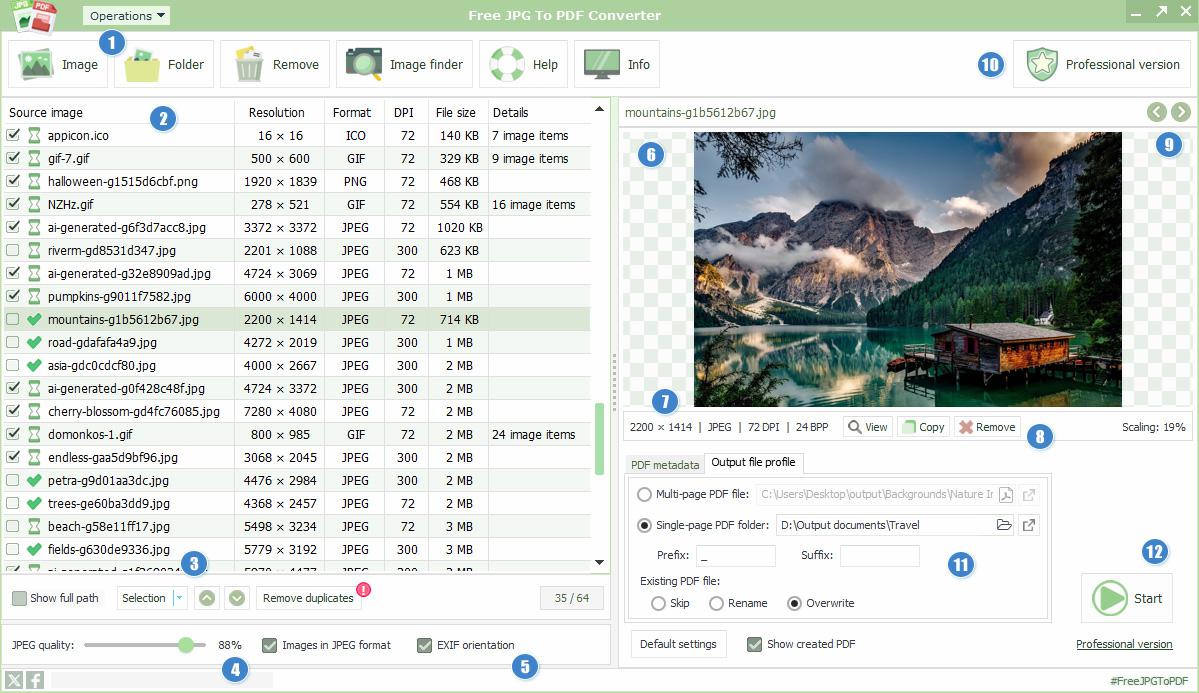 Add input images
Image list with source image information
List selector/sorter controls
Embedded JPEG quality settings
JPEG photo default orientation
Selected image preview panel
Preview meta information
Quick steps for selected picture
Image list item navigation buttons
Output PDF file options
Conversion, start/stop file operations
Steps to convert JPG images to PDF
add from supported image formats (JPG/JPEG, BMP, GIF, JPEG-2000, ICO, PNG, PCX, PSD, TGA, TIFF, WEBP) to the containing list that also determines the order in which the images are processed

1

use JPEG format options using controls below the list to determine precise picture properties – JPEG compression

4

, image EXIF orientation

5

you can reset these parameters to factory values at any time by clicking on the "Default Settings" button
PDF options are set on the right side of the screen, just below the image displayed

11

optional metadata information for PDF files
set the path to the output PDF file or, for separate PDFs, the output folder (you can open these paths at any time by clicking the appropriate icon)
when done, click "Start" to start converting pictures

12

conversion progress is indicated by an indicator in the lower left corner, with a percentage followed by the path to the image file currently being processed
after conversion, the resulting PDF file is displayed using the default PDF reader software built into your system
Image file list item sort methods
Because the order of the images in the converted PDF determines the layout of the entire document, the images in the list must be arranged in the proper order to ensure accurate output. The order in which images are processed is from top to bottom as you go through the list. (Only the selected images are processed; the summary field at the bottom of the list shows the total/selected images.) You can save or load files in the image format that you place in the waiting list at any time and the images you process can be treated as a single unit at a later time. Click a column heading to sort the list according to the column heading (name, resolution, format, DPI, file size), which can include incremental and descending values, as appropriate. If there is no need to sort the list, you can clear the list ordering by selecting the appropriate menu option from the menu's 'Edit' submenu.
Output PDF options
In rare cases, it may be necessary to include PDF metadata, which may provide more detailed information about the document created. Configurable metadata can include title, theme, author, keywords entry. You specify this information prior to conversion; if you output multiple PDFs, all PDFs will be included with this metadata. Free JPG To PDF Converter provides the ability to output PDFs with multiple images as well as PDF files per image. You can enter the filename prefix and suffix. If the output file already exists, you can specify the software behavior in this case (ignore, rename, overwrite).
Free JPG To PDF Converter user interface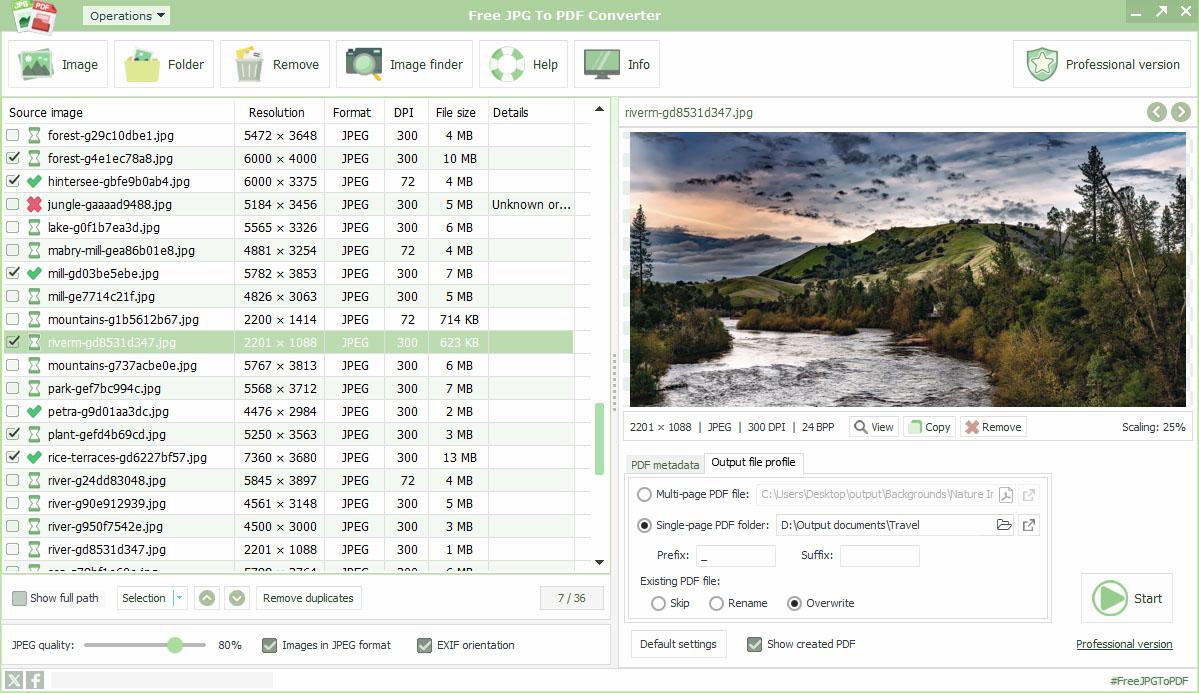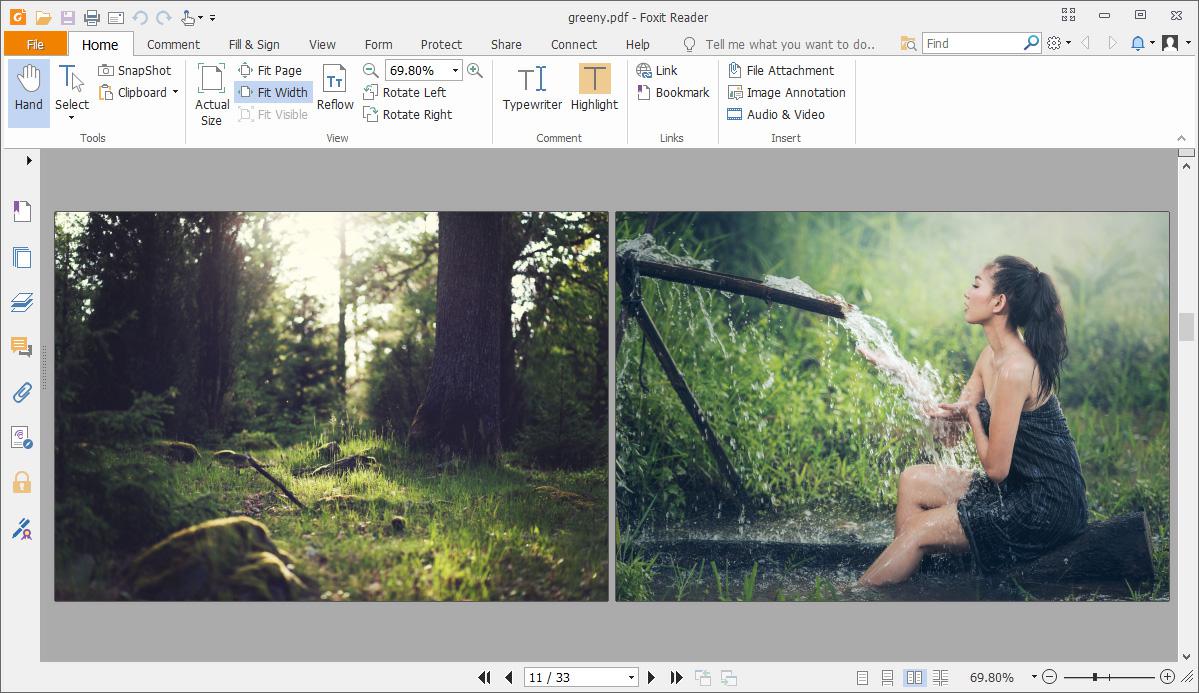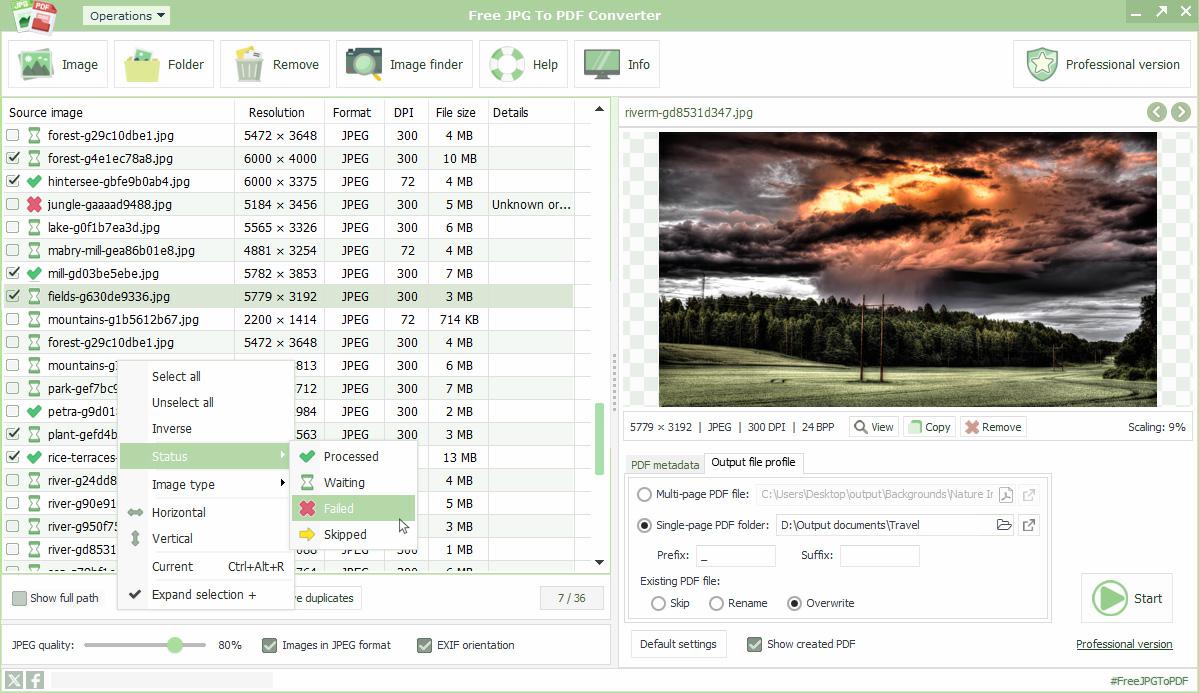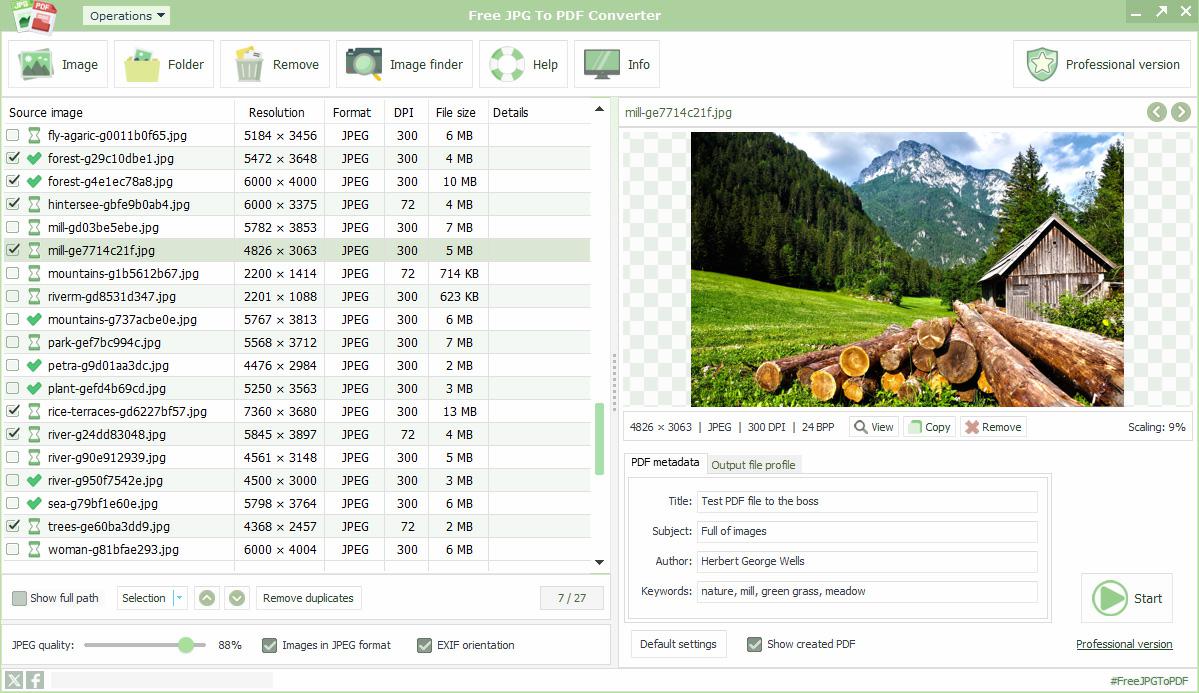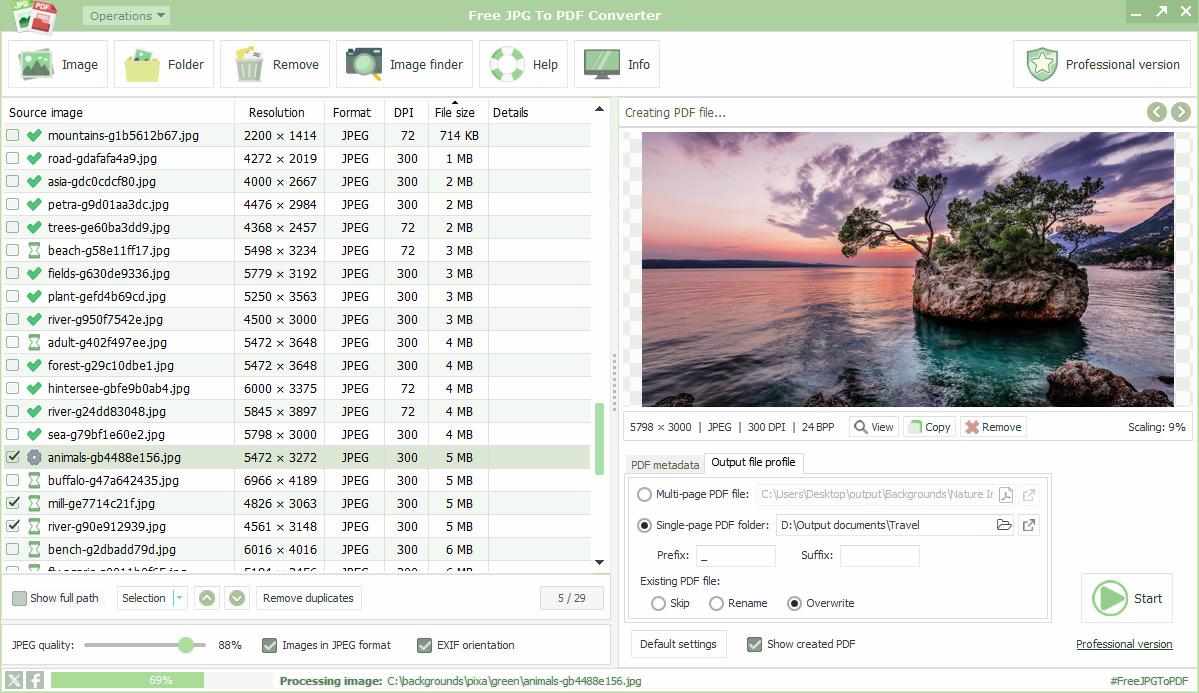 Free JPG To PDF Converter software features
Widely supported input image formats
Free to use in any environment
Rapid conversion process
Easy-to-navigate user interface
Scalable JPEG compression value
Single and multipage output PDF files
Smart image list management
JPEG EXIF orientation support
Automatic image optimization
Multilingual software support
No page number limit
Auto image layout and page size
Drag and drop function
External display support
Optional image finder
Unlimited usage
Detailed documentation and tutorials
Standalone internal operating mode
No additional software required
Data security and privacy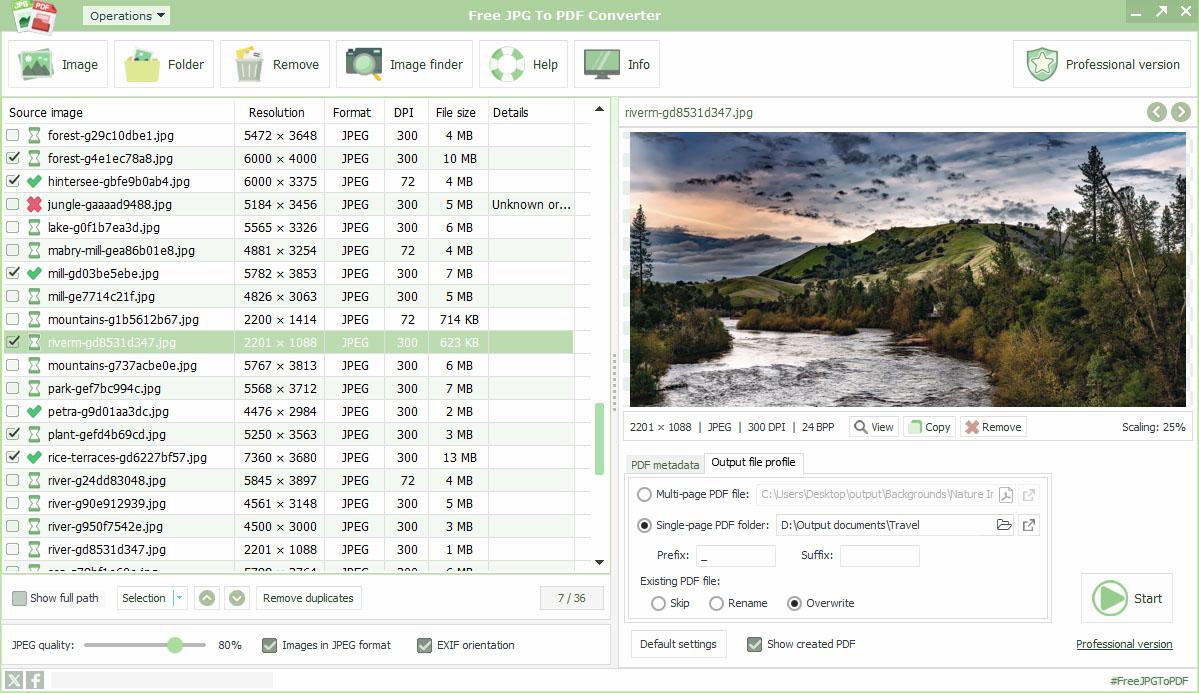 Application name:

Free JPG To PDF Converter

Short description:

Free JPG to PDF conversion software

Current version:

4.43

Languages:

English, Bulgarian, Chinese simplified, Croatian, Czech, Danish, Dutch, Finnish, French, German, Greek, Hindi, Hungarian, Indonesian, Italian, Japanese, Korean, Lithuanian, Norwegian, Romanian, Russian, Spanish, Portuguese, Polish, Swedish, Thai, Turkish, Vietnamese

Release date:

November 15, 2023

Installer file size:

24.18 MB
Free JPG to PDF conversion software
You can batch output archive PDF files of JPG and other supported image types (JPG/JPEG, BMP, GIF, JPEG-2000, ICO, PNG, PCX, PSD, TGA, TIFF, WEBP) with a per-page layout using the software. Immediately after you put the different types of image files in the image list in order, conversion to PDF can begin as soon as you have finished the output settings. You can easily upload the image list by dragging and dropping, using the preview panel to see the appearance of the currently selected image. In addition to directly adding image files, it is also supported to directly add folders, allowing you to specify recursive image search in all available subfolders.
Unlimited use in any area used
Free JPG To PDF Converter is specially designed for batch mode conversion of JPG/JPEG images to PDF, which only requires simpler user intervention. In addition to the user interface that can be managed in a transparent manner, an important aspect of the development was the implementation of multilingual software support.
The software can be used for an unlimited number of transformations, the sorting modes in the image list can be suitable for all application areas. A self-installing, non-utility file conversion application allows you to easily manage the conversion of batch mode image files and a large number of image files to PDF.
Questions and answers about Free JPG To PDF Converter software
One common reason is when you need to create a single, easily shareable document from multiple image files, such as photographs or scanned documents. PDFs are also preferred for professional presentations, as they preserve the layout and formatting of the images while ensuring compatibility across different devices and platforms. Additionally, when you want to secure your images from unauthorized editing or maintain a consistent quality, converting them to PDF with password protection and encryption is may a good choice.
Firstly, common use of JPEG images is for digital photography, where they excel in capturing and storing high-quality photographs with relatively small file sizes, making them easy to share and store. They are also prevalent in web design, as their compression capabilities allow for faster loading times, enhancing user experience. Additionally, JPEGs are commonly employed in document scanning and image editing applications, making them an essential format for archiving and processing visual content in both personal and professional settings.
Digital image compression is a crucial technique that reduces the size of image files while maintaining acceptable quality. It works by removing redundant data and encoding the image in a more efficient way, resulting in smaller file sizes that are easier to store and transmit. This process is essential for various applications, including web content, where faster loading times are essential and in the field of digital photography, where it allows for more images to be stored on memory cards. Digital image compression plays a pivotal role in balancing file size and image quality.
PDF of its primary purposes is document preservation, ensuring that files retain their formatting and layout across different devices and platforms. PDFs are extensively used for creating and sharing business reports, academic papers and legal documents due to their reliability and security features, such as password protection and encryption. Additionally, PDFs are popular for forms, brochures and ebooks, offering a standardized and easily printable format that maintains the original design.
DPI or Dots Per Inch, is a use term in the realm of bitmap images. It refers to the measurement of the image's resolution, indicating the number of individual dots or pixels that make up one square inch. A higher DPI signifies greater image detail and quality, making it suitable for high-resolution prints and professional graphics. In contrast, lower DPI images are typically used for digital displays, where a lower resolution is acceptable to conserve file size and loading speed. Understanding DPI is essential for ensuring that bitmap images meet the desired quality and resolution standards for specific applications.
The automatic application of DPI for embedded JPG images in PDF files plays a crucial role in maintaining image quality and consistency. When images are embedded in a PDF, they are assigned a specific DPI value, which determines their resolution when displayed or printed. This DPI value ensures that the images appear sharp and clear, whether viewed on a screen or in print. It also allows PDF viewers and printers to interpret the image's dimensions accurately, ensuring that the image retains its intended and applied quality.
PDF metadata refers to the supplemental information embedded within a Portable Document Format file. It provides valuable details about the document's content, author, creation date and more, without being visible in the document itself. Metadata serves several purposes, such as helping users find and organize files, improving search engine optimization for PDFs on the web and ensuring proper document management.
A bitmap image often referred to as a raster image, is a digital graphic composed of a grid of individual pixels. Each pixel represents a specific color or shade and the arrangement of these pixels forms the complete image. Bitmap images excel at capturing intricate details and complex color gradients but can become pixelated and lose quality when resized. Common bitmap file formats include JPEG, PNG, BMP and they are widely used in photography, digital art and graphics where fine detail is essential.
JPEG and PNG are two commonly used image formats, each with its unique set of characteristics. JPEG, which stands for Joint Photographic Experts Group, is ideal format for photographs and complex images. It uses lossy compression, which reduces file size by discarding some image data, resulting in smaller files but potential quality loss. On the other hand, PNG or Portable Network Graphics, is better suited for images with sharp edges, text or graphics with transparent backgrounds. PNG uses lossless compression, preserving image quality but often resulting in larger file sizes. Choosing between JPEG and PNG depends on the specific needs of your image, balancing quality and file size considerations.
Batch file processing is a valuable automation technique used in computing to streamline repetitive tasks. It involves the execution of a series of commands or operations on multiple files or data sets simultaneously. This approach not only saves time but also reduces the risk of human error, making it especially useful for tasks like renaming files, converting file formats or applying the same operation to a large number of files. Batch file processing is an essential tool for professionals and businesses looking to enhance efficiency in data management and processing workflows.
Related: Professional JPG to PDF conversion software
There are many reasons for offering bundled and fast JPG to PDF conversion operations, which are available free of charge. However, if you are looking for more professional conversion software of a similar nature, then the service of FM JPG To PDF Converter Pro is an excellent solution for this, with which the output PDF and the photos and images contained can support position, size, optimization, page size and layout. The software includes a number of convenience features, as well as a built-in high-resolution online image search engine that can display the search results instantly and include images in the sequence of the output PDF contained in the image file.